Visit Holkham
Plan your visit to Holkham Beach
Holkham Beach opening times
Holkham Beach is accessed via Lady Anne's Drive, just off the main coastal road, A149, and opposite the entrance to Holkham Village and The Victoria.
The car park is open from 6am-5pm over winter.
Prices
Parking charges apply on Lady Anne's Drive:
Up to 2 hours: £3.50, Up to 4 hours: £6.50, Over 4 hours and all day: £10
Purchase of an all-day ticket allows free parking on the same day in Holkham Park during the visitor season.
Directions and parking
Use the postcode NR23 1RG to reach Lady Anne's Drive. Parking charges apply, this is a pay and display car park. Attendants are on duty at the top end of the drive if you need assistance. The Lookout visitor centre can also be found here. The beach is accessed by following the boardwalk through the pine woods until it opens out on Holkham Bay. On busy days our overflow car park will be opened, which means parking on grass and walking a little further to the beach.
Parking info
Parking: Pay and display. Card and cash accepted.
Car Park Open: 6am-9pm
Satnav: NR23 1RG
EV charging
x2 EV chargers available at 57p per KW. Four hours maximum use. Our EV chargers are operated by Park & Recharge.  Sign up and charge via the website, or download the app from the App or Play Store using the buttons below.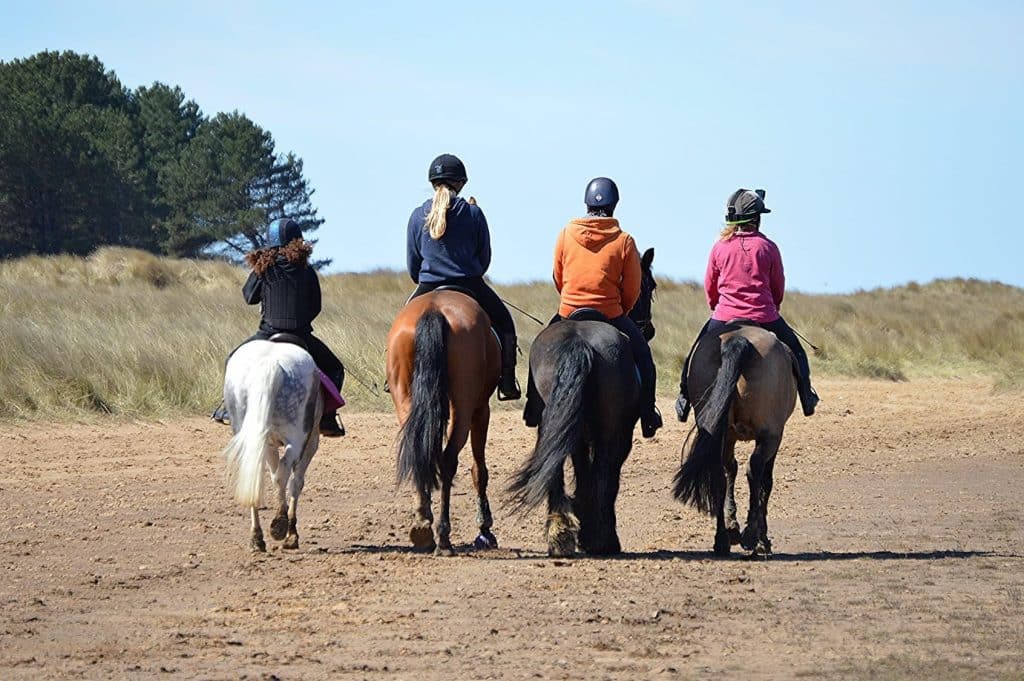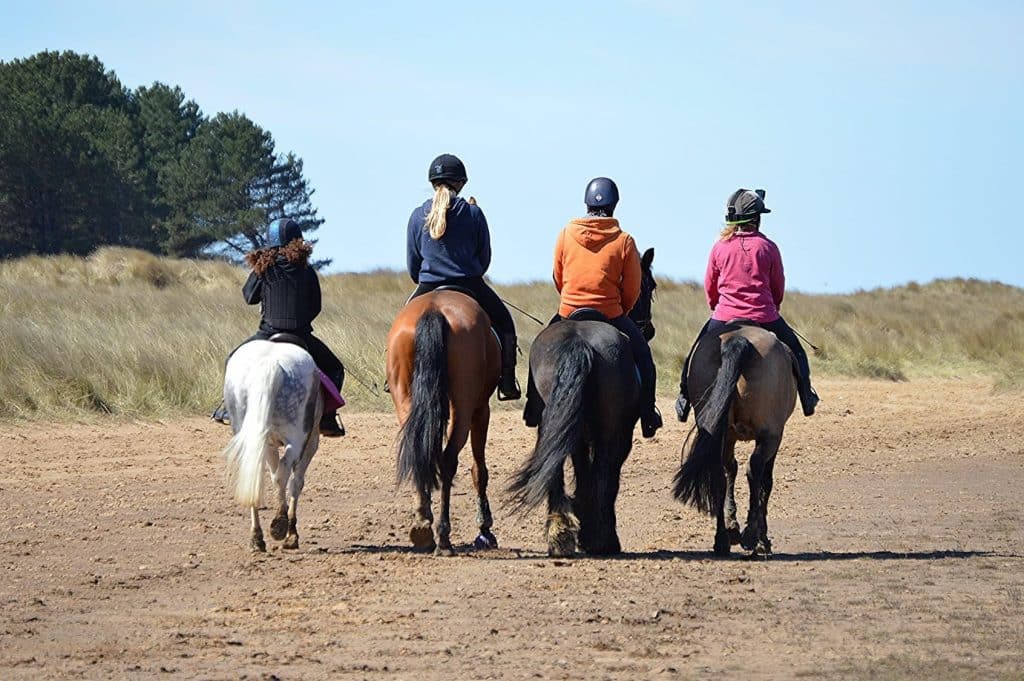 Horse riding at Holkham
Yes – you can bring your horse to ride at Holkham Beach (and it's a great place to ride, too!)
We would be grateful if you could stick to certain restrictions to help protect our landscapes and keep everyone safe.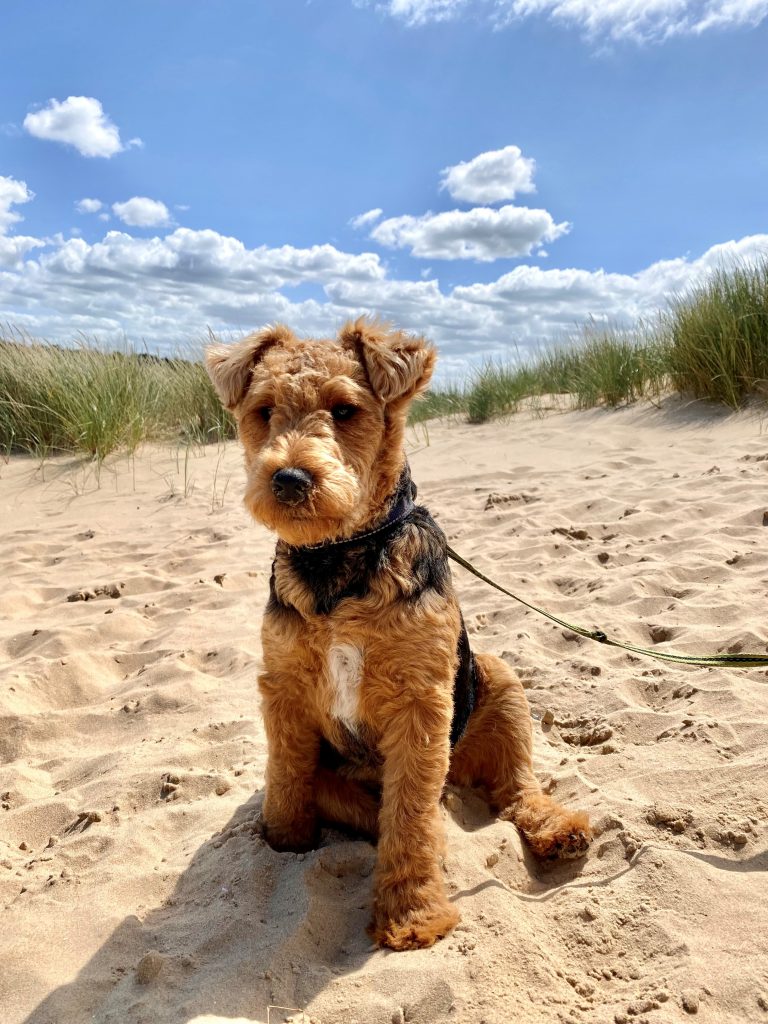 Dog walking at Holkham
We love dogs, but we love wildlife too… that's why we kindly ask that you stick to certain restrictions whilst walking your dog on the beach.
Each year from around the start of April to the end of August, the Holkham National Nature Reserve comes alive as the breeding season begins for shorebirds. One of the biggest challenges we face is protecting these birds from disturbance.
Dogs are welcome on Holkham Beach all year round, but from 1st April to 31st August annually, we have a dogs-on-leads policy in the most vulnerable areas of the beach, leaving over 70% open to walking off lead under close control. In highly sensitive areas, you'll find roped cordons in place to protect ground nesting Terns, Oystercatchers and Ringed Plovers. Please steer clear of these cordons.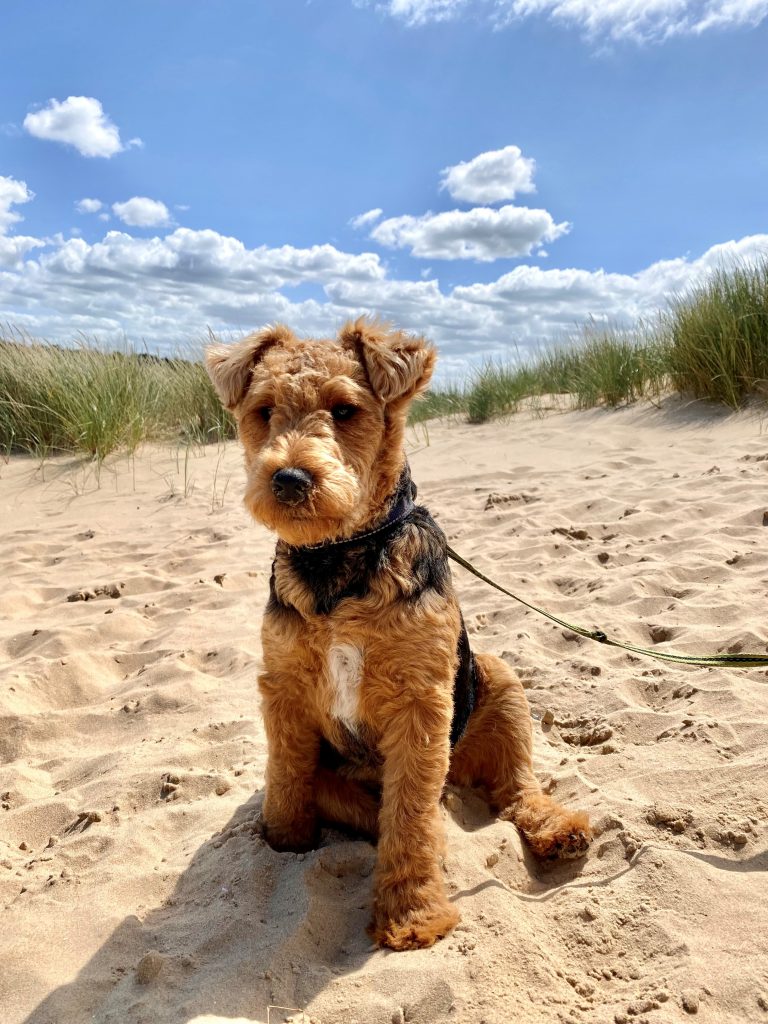 FAQs
Can I pay for parking by card?
Yes, all machines accept coins or contactless.
Is there accessible parking?
Yes, please proceed to the top of Lady Anne's Drive where you will find designated bays.
How much is it to park my horsebox?
What is classed as a long vehicle?
How much is it to park at the beach?
2 hours- £3.50, 4 hours- £6.50, All Day- £10
Does my parking ticket allow me to park at Holkham Hall on the same day?
With the purchase of an all-day ticket for £10, you are permitted to park in Holkham Park on the same day for free. All other ticket types will require an additional ticket if entering the park.
How long does it take to reach the beach from the car park?
The beach is accessed through the pine woods and will take approximately 10 minutes from the top of Lady Anne's Drive. Please be aware it will take longer depending on how far down Lady Anne's Drive you are parked.
How long does it take to reach the shoreline?
From the entrance to Holkham Beach to the shoreline is around a 30 minute walk, depending on the tides. Please be mindful of where you are walking and try to stick to trodden paths to avoid disturbing ground nesting birds and other fauna and flora.
Are there toilets at the Beach?
You'll be relieved to know there are toilets! At Wells, they can be found in the main block at the entrance to the car park, and there are additional toilets open spring to autumn in the pinewoods on the path to the end of the beach huts. At Holkham Beach, they are located inside The Lookout and also in Holkham village, opposite the Adnams store.
Can I camp in the woods or on the beach?
No – camping is not permitted on any part of Holkham Estate.
Can I bring a BBQ to Holkham or Wells Beach?
No. The use of barbeques, fires, stoves and sky lanterns are strictly prohibited on all our beaches, and in the pinewoods and Holkham Park too.
Is it safe to swim at Holkham or Wells-next-the-Sea beach?
Take care when swimming – only swim where it is marked safe by red and yellow flags as there are strong tidal currents. Lifeguards are on duty from Wells-next-the-Sea beach 2nd July – 4th September daily. To avoid being cut off by the tide, ensure you know when high tide is and ensure you are off any sandbanks 4 hours before high tide.
Where can we see the Spoonbills?
They can usually be spotted from Joe Jordan Hide, accessed from the west track behind the pines, starting from the Lookout Café at the top of Lady Anne's Drive.
Is there are café at the Beach?
The Beach Café at Wells serving hot and cold food and drinks, and with seating both inside and out.  At Holkham Beach there is The Lookout, which serves light snacks and refreshments, which can be enjoyed whilst looking out over the Holkham National Nature Reserve.
Can I charge my electric vehicle?
Yes, we have two EV chargers on Lady Anne's Drive. They are located at the top end of the car park, nearest The Lookout. Charging costs 57p per KW and you may park/charge for a maximum of four hours. Additional chargers can be found in Holkham Park and at The Victoria.
Can I metal detect on Holkham Beach?
No, we do not allow metal detecting.
The primary reason for this approach is that parts of Holkham Estate land is protected by important conservation designations, most notably but not exclusively some areas are Sites of Special Scientific Interest (SSSI), which are determined by Natural England. Certain designations afford the land special protection from specific activities, this stipulates that metal detecting is not permitted both on Holkham Estate land and on Crown Estate land including the foreshore.
To avoid any misunderstanding for all concerned we apply this consistent approach to all areas of Holkham Estate and all expressions of interest from metal detectorists, even where the land is under the plough or below the tide line and managed by the Crown Estate.
Whilst we recognise that metal detecting is a popular and growing hobby, we would ask that you kindly respect this position. You may find the NCMD website useful in finding other sites that may be able to help with your interest.