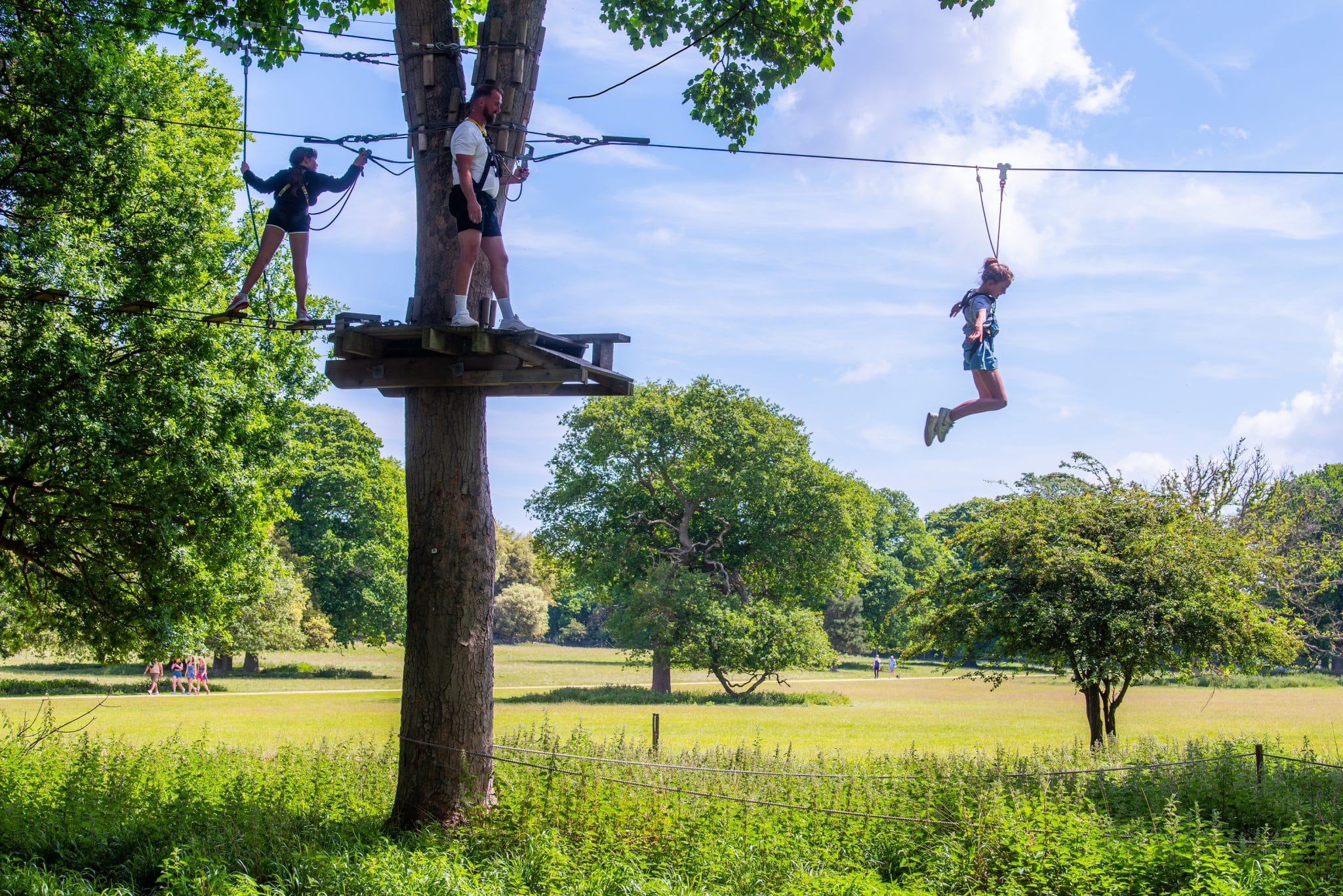 Things to do
Ropes Course
Swing from the trees and test

your head for heights.
Amazing views await those brave enough to make the climb.
Begin your trail of discovery through the treetops, over wobbly crossings and swinging bridges before getting your feet safely back to the ground with a descent down our two ziplines.
You'll be in safe hands with our fully trained team who will fit your harness, give you a thorough introduction to the equipment, and guide you over the short induction course before the real fun begins! You'll head high up into the woodland and see Holkham from a completely unique perspective. The course should take around one hour to complete.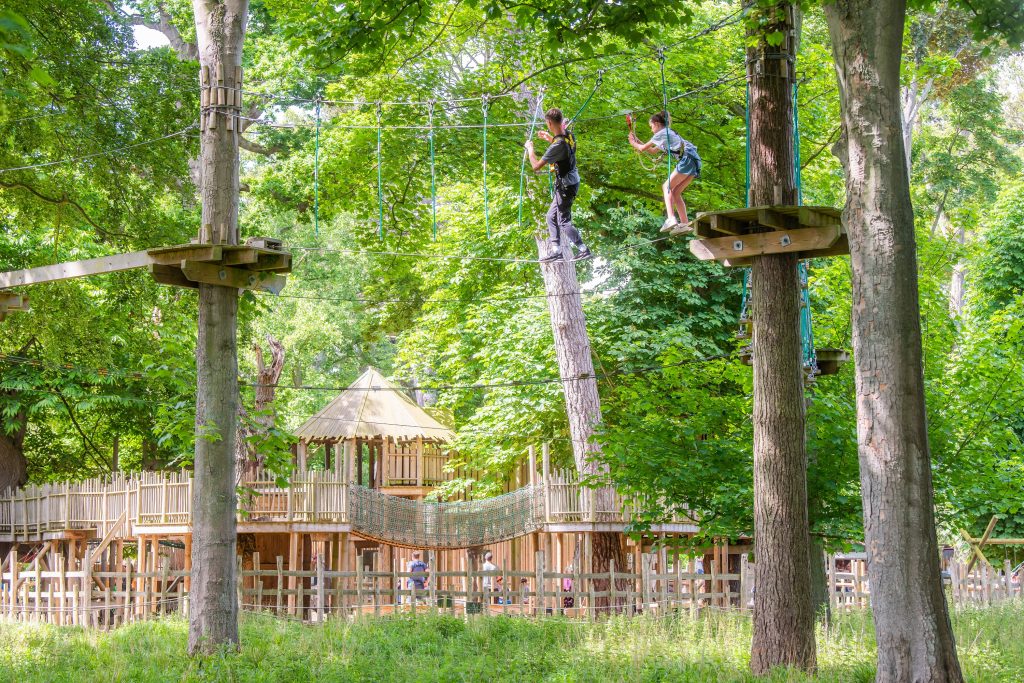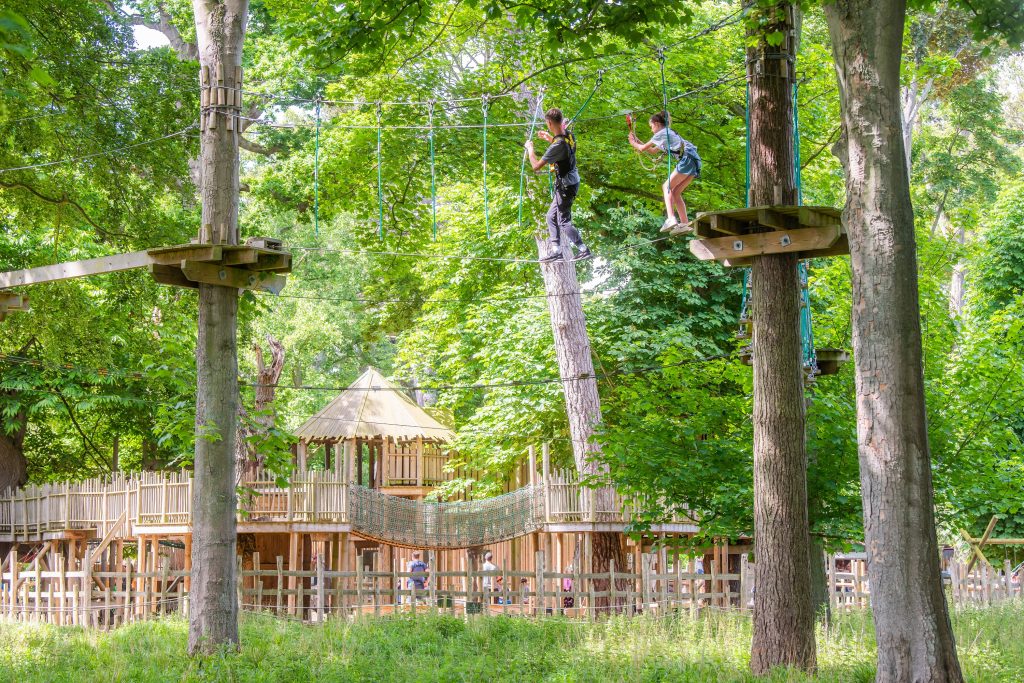 Who can go on the ropes course?
You must be over one metre in height and weigh less than 20.5 stone – If you are under 1.25 metres in height or under six years of age, you will need to be accompanied by an adult aged over 18 years on the course.
Each adult can accompany a maximum of two children in this category. If you are between six and 16 years old, you will need to be supervised by an adult either on the course or from the ground. Adults can supervise up to six children in this age bracket.
Please be sure to pop on a pair of closed-toe, flat, and secure footwear that won't slip off. If you have long hair, you'll need to tie it back.
The course may need to be closed at short notice due to adverse weather.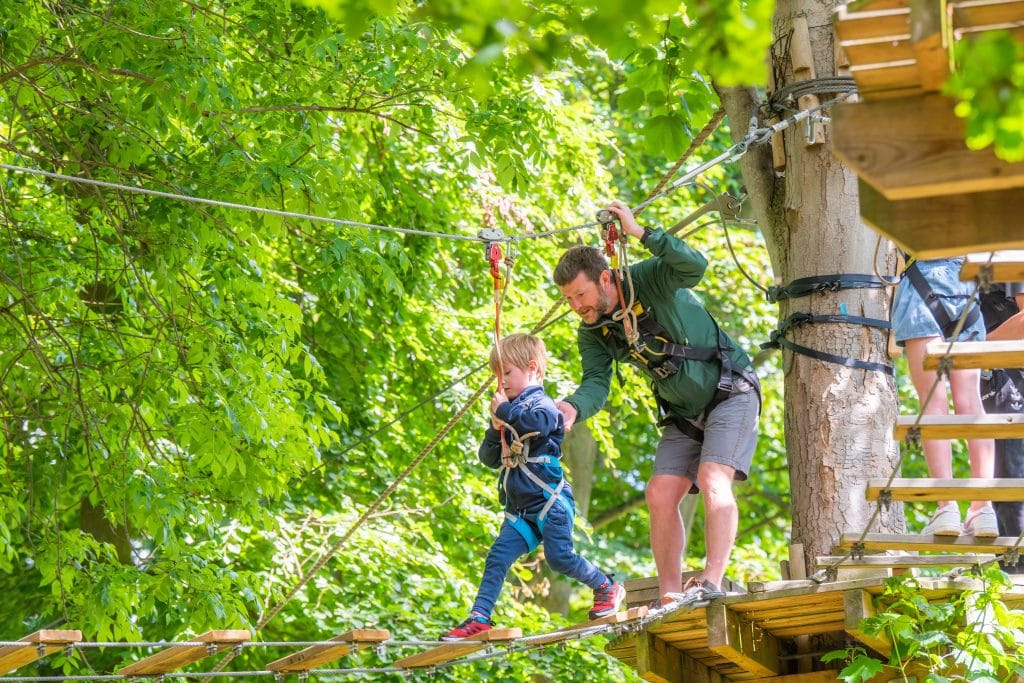 Opening Times
Open 10am-4pm on the dates below:
March Tuesday 28th, Wednesday 29th
April Saturday 1st to Sunday 16th, Saturday 22nd – Sunday 23rd, Saturday 29th – Sunday 30th
May Monday 1st, Saturday 6th to Monday 8th, Saturday 13th – Sunday 14th, Saturday 20th – Sunday 21st, Saturday 27th to Wednesday 31st
June Thursday 1st to Sunday 4th, Saturday 10th – Sunday 11th, Saturday 17th – Sunday 18th, Saturday 24th – Sunday 25th
July and August Every day
September Saturday 1st – Wednesday 6th, Saturday 9th – Sunday 10th, Saturday 16th – Sunday 17th, Saturday 23rd – Sunday 24th
Sunday 30th
October Sunday 1st, Saturday 7th – Sunday 8th, Saturday 14th – Sunday 29th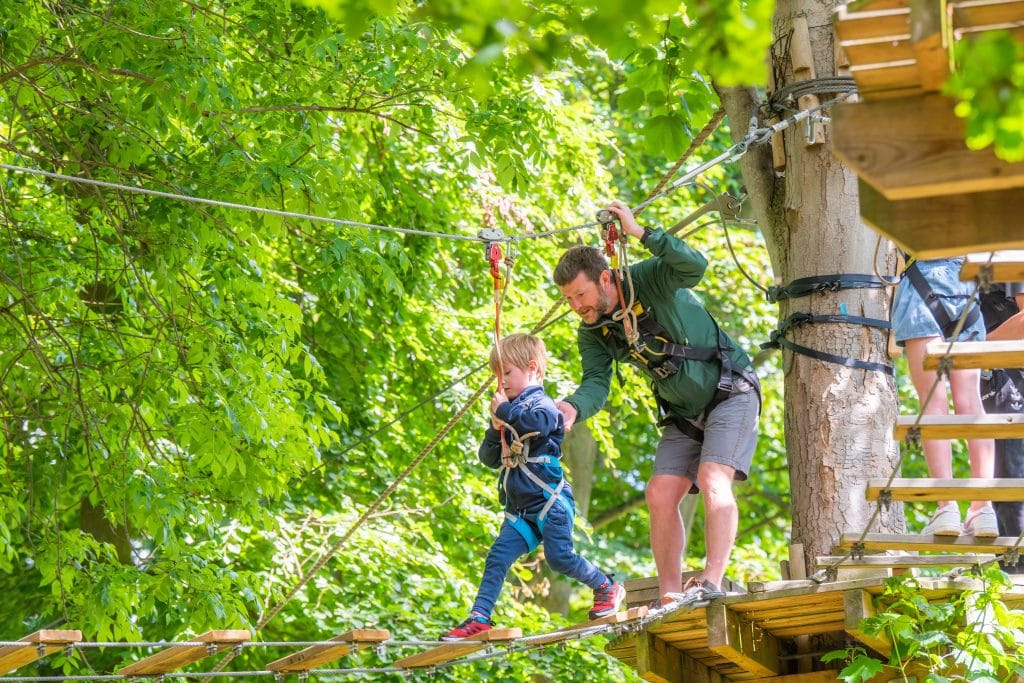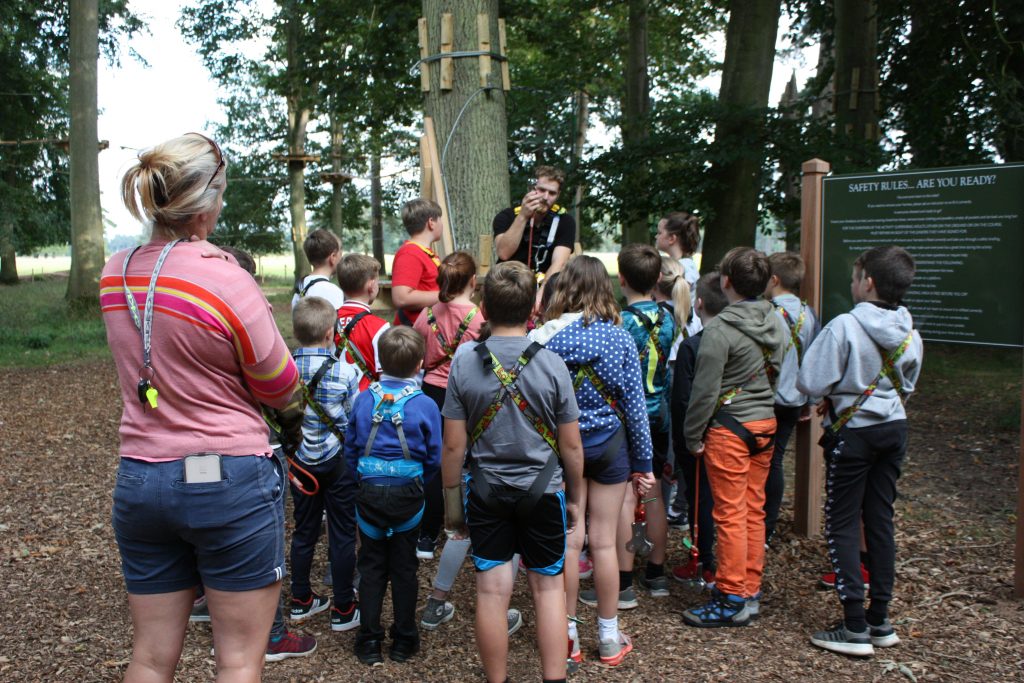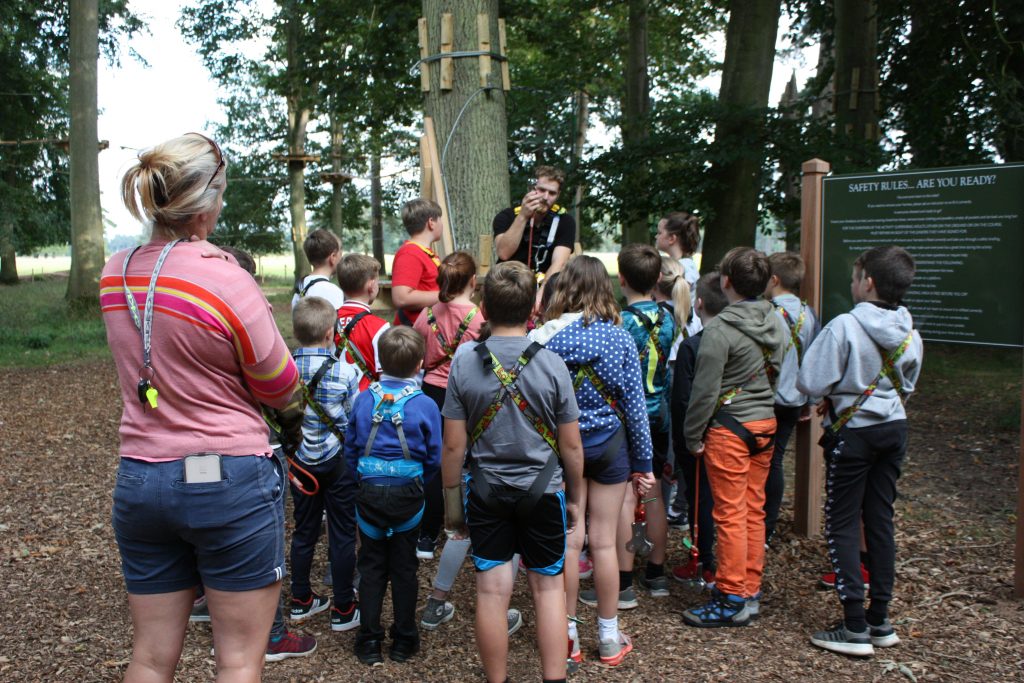 Birthday parties and large groups
Ready for a tree-mendous party? We're happy to host birthday parties and large groups on the ropes course!
If you are interested in organising your party with us, please get in touch.
FAQs
What should I wear?
Please wear closed, flat shoes and if you have long hair you'll need to tie it back. We recommend sleeved tops and trousers. Adventures around the trees can sometimes be muddy and dirty so please dress for the woods.
What is the weather is bad?
A little bit of rain can be fun! We'll only shut the course if the weather is really bad, for example in high winds, if there are storms or lightening, or if it gets really, really cold.  Please dress for the weather and feel free to give us a call to check we're open if you're unsure.
I have a problem with my booking, can I change it?
The best thing to do is gives us a call or drop us an email and we'll be happy to help 01328 713 939 / adventure@holkham.co.uk
Do I have to pay to park?
Yes, there is a car park right next to the Ropes Course which is £5 for the whole day. The parking charge is redeemable against purchases of £30 or more from Holkham Gift Shop.
How fit do I need to be?
Our Ropes Course is adventurous, but you don't have to be super fit to take part. You'll be on your feet for around an hour and there is a good deal of climbing up stairs, crouching, bending over and balancing on wobbly crossings.
What are the height and weight restrictions?
All participants must be over 1m tall and weigh less that 20.5 stone / 130kg. Participants under 1.25m must have an adult accompanying them around the course.
What are the supervision ratios?
All participants under 6 years old must have an adult over 18 accompanying them on the course. (Maximum of 2 children under 6 per adult).
All under 16 year olds must have a supervising adult. Every adult (18+ years) can supervise no more than 6 children (6-15 years old)
Adults can supervise from the ground or on the course.
How safe is it?
Whilst there is some associated risk when undertaking activities such as these, we provide all participants with a safety briefing by our fully trained staff, and provide high quality and well maintained equipment. We use a continuous belay system which means you never come detached from the safety line whilst you are up on the course.
Can I join in if I am pregnant?
We recommend that you do not take part in the activity as, although minimal, there is still a small risk of injury. However, if you do wish to take part it is your choice. We highly recommend you seek advice from a medical professional if you do decide to take part and you will need to declare that you are pregnant and accept all associated risks participating may cause you and the unborn baby.
I have a disability, can you help with accessibility?
If you need additional support then please give us a call on 01328 713 939, or email us at adventure@holkham.co.uk to discuss your requirements.
I have a pre-existing medical condition, can I still take part?
Our instructors aren't medically qualified so we encourage participants to carry out their own risk assessment before taking part in the activity, ultimately the responsibility and decision is yours. You may want to seek professional medical advice too before taking part.
I'm supervising from the ground, can I have my dog with me?
Yes, well-behaved dogs on leads can be with adults supervising from the ground
Can't find an answer?
Get in touch for more information: