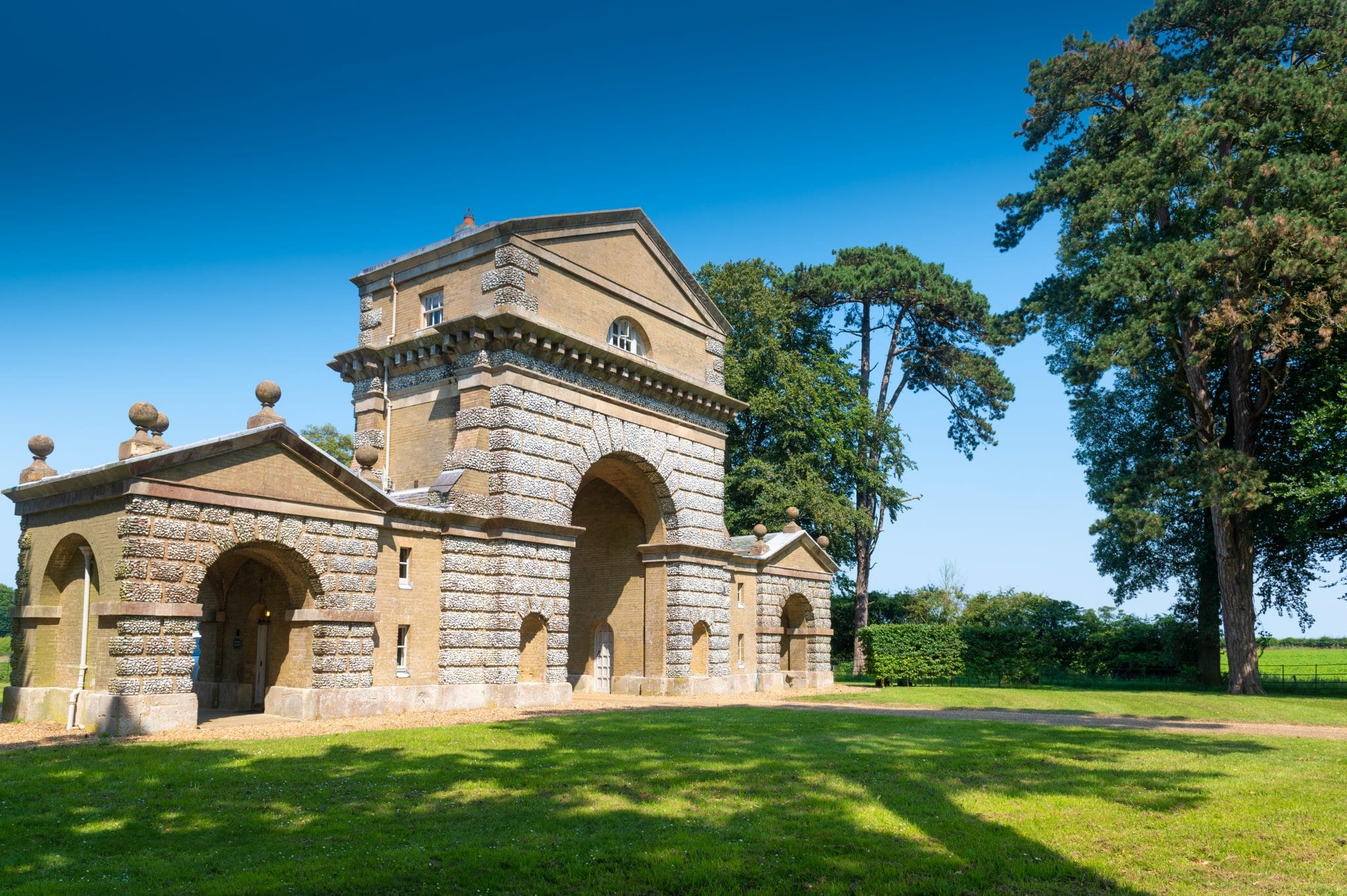 Eat, shop and stay
Holkham Lodges
Because one day is never enough,

you can always stay a little longer.
If you're looking for somewhere to slow down and escape the pace of everyday life, one of our unique lodges could be the perfect place for you.

In partnership with local holiday cottage rental agency, Norfolk Cottages, we offer six lodges in the grounds of the Holkham Estate. Choose from a folly, gatehouse, arch or lodge, each offering you the rare opportunity to reside within the walls of Holkham Park.

Our lodges, the Triumphal Arch in particular, have been named one of the Telegraph Luxury Online's most stylish holiday spots. Details of each lodge and how to book are available on the Norfolk Cottages website.
This is a wonderfully unique experience to stay in one of five iconic lodges on the Holkham Estate in North Norfolk. Sleeping only two people (+well behaved pooches) – it's the perfect romantic getaway!
Muddy Stillettos Norfolk
'The Triumphal Arch, what a find! This place was stunning and beautifully located. I chose the Arch for my husbands 40th and it did not disappoint. The hamper on arrival was perfect, the decor tasteful and comfortable. We had an open fire going on our last night while we ate dinner and sipped Prosecco. We watched the sunset while the cows wondered near by. And we made the most of Holkham estate, walking, cycling and site seeing. We came home completely replenished. We would highly recommend.'
Mrs N, Norfolk Cottages Customer
'Such a lovely location with so much wildlife to see. We have fallen in love with Norfolk and we will be back.'
Mr Chris H, Norfolk Cottages Customer
The View
Newly-renovated in 2023, The View (previously known as Mill Barn Farm) offers stylish, spacious accommodation with breath taking views across the neighbouring fields and marshes.
South Lodge East
A grandeur retreat for two boasting historic exteriors alongside contemporary interiors, and set in the magnificent grounds of the the estate.
South Lodge West
The perfect escape for a wander through Holkham to take in the beautiful landscapes & wildlife. Brilliant for beach trips during the Summer months or to cosy up inside by the wood burner during the cooler climes.
The Triumphal Arch East
Situated in rural surroundings, the picturesque estate landscapes are just outside your window, offering a truly romantic getaway for two.
The Triumphal Arch West
A truly romantic retreat for two, with idyllic scenery and nothing but the sounds of nature to surround you.
Palmers Folly
Palmers Folly is tucked away on the especially quiet Golden Gates Drive. This is an ideal getaway for any couple looking to escape the pressure of everyday life.
Palmers Lodge
A tantalising and unaffected setting at Holkham Estate – perfect for those wanting to escape to a rural hideaway.
Cuckoo Lodge
A rural escape like no other. Completely surrounded by fields and woodland; perfect for switching off from everyday life and exploring north Norfolk.