Success at the Coach Awards!
October 14, 2021 | News | 5 minute read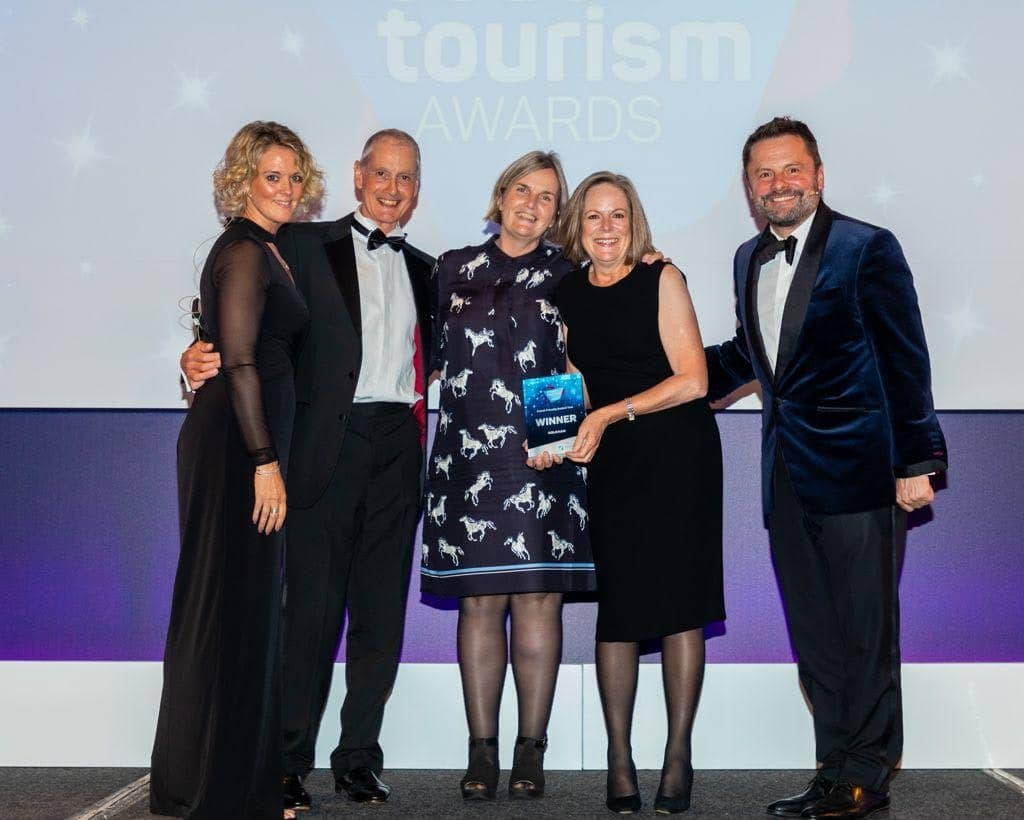 Holkham were thrilled to receive an award at the British Coach Tourism Awards 2020 (which took place in September 2021), triumphing in the 'Coach Friendly Guided Tour' category. As a tourist attraction, navigating the pandemic has come with many a challenge, but our entire staff have worked hard to ensure the visitor experience for coach trips, families, friends and individuals has consistently been at a high standard. Barbara and Karena, from our Visitor Experience and Hall Teams, headed to the National Motorcycle Museum in Birmingham for the awards evening, hosted by Chris Hollins. Here are their thoughts on the award.
Barbara:
Introduce yourself, and explain what you & your team do at Holkham.
I'm Barbara, currently enjoying my 4th season with the Visitor Experience Team who provide a warm and informative 'meet & greet' welcome to all visitors as they arrive at Visitor Reception. Based in the Courtyard and Walled Garden we aim to ensure everyone gets the most out of their visit and we're always looking to go the extra mile.
Why do you think Holkham is worthy of this award?
We meet coach parties on arrival, tailoring itineraries for their specific needs. We also answer email and phone enquiries, deal with bookings, directions, accessibility options and other general information.
What are you most likely to recommend to coach trippers visiting Holkham?
There's so much for visitors to see and do here, it's difficult to recommend one thing. Definitely a walk around the stunning 6 acre Walled Garden – always a lovely tranquil place and a massive source of gardening inspiration. Total Heaven!
What is your favourite thing about working at Holkham?
My favourite thing about working at Holkham is being part of its unique and friendly team 'family'. We're all committed to delivering fantastic customer service and are very proud to have won this award.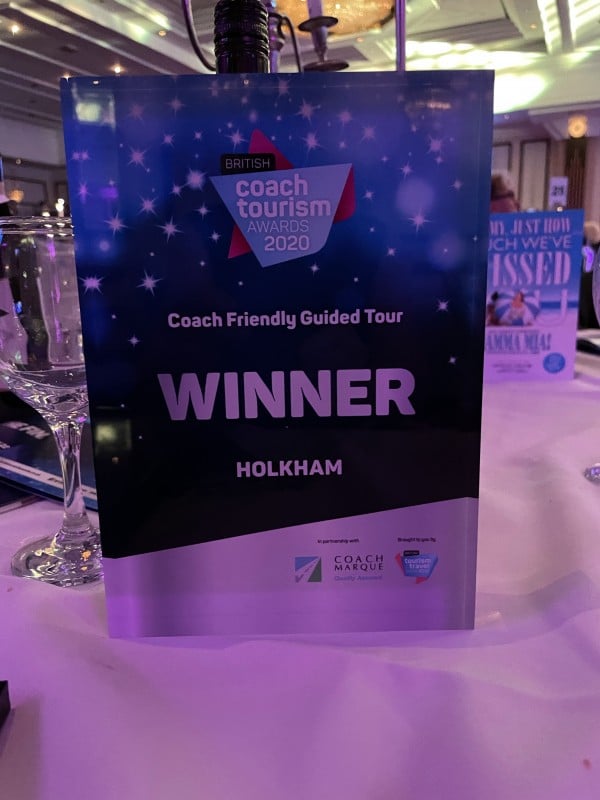 Karena:
Introduce yourself, explain what you do at Holkham and how you work with visitors on coach trips.
I'm Karena, a Hall Steward – a Tour Guide and Room Steward – and I've been here for 3 and a half years. I absolutely love it!
Lately we've been getting more and more coaches coming. With other historic houses nearby, the area makes for a lovely coach visit. I enjoy sharing the whole story of Holkham with guests joining our tours, and I hope that coach visits will continue to go from strength to strength.
Tell us more about the Coach Tourism Awards evening.
I was really honoured to go! I was pleasantly surprised by the awards – a bit blown away, to be truthful! The whole evening was a real showstopper. We learnt lots, made some good contacts and it was amazing to be a part of. Of course, the most amazing part was to hear Holkham's name being called out! We weren't aware we had won before, so were astounded, and such an honour!
What do you think makes Holkham worthy of this award?
I think the organisation from start to finish is wonderful! Added – the icing on the cake – is how friendly the team is here. Everyone is out for the guests to have the best time possible, and visitors know that from the moment they step off the coach.
Where is your favourite place in the hall to show visitors?
My absolute favourite must be the Long Library because I have a real passion for landscape architecture. [William] Kent was one of my heroes, and there's a lot of Kent in there! It's large, but so cosy, and part of the family home. It's filled with family photographs, and is really unique. I believe the whole essence of Holkham is in that room. I love to give the history of the family, of the Old Elizabethan manor house just outside.
However, it's the Marble Hall that really blows visitors away! The Saloon is also a favourite. I love to take people there – to the epicentre of the hall – and show them the approach up the Avenue, up and around the Obelisk. The whole story of Holkham, when you're standing in the middle there, is really summed up in the Saloon.
What is your favourite thing about working here at Holkham?
The people. Holkham is like a big family. Of course, we work for the family, but we also are a big family!
If you'd love to join this 'family', view our current vacancies.
If you are planning to come to Holkham, click on 'Your Visit' and 'Things to Do' at the top of this page.
View all latest blog posts here.
Back to Journal

Back to Journal