Lady Mary Coke: Holkham's Own Lady Whistledown
His second daughter became acquainted with Lord D- and being a young lady of few scruples agreed to run away from her father's house…I don't believe she will be long, as his lordship grows tired of his mistress
This quote does not come from one of Lady Whistledown's famous pamphlets, but instead from the diary of real-life Lady Mary Coke (1727 – 1811). Mary's was an extraordinary life scattered with scandal and she is famous today for her meticulously kept journals which chronicle late eighteenth century high society.
She was born the youngest daughter of John Campbell, 2nd Duke of Argyll in 1727. As was common with girls of the period, she never received a formal education, though she was taught to read, write and sew. It seems, however, that she had a keen intellect, and was fond of reading works of history and philosophy, as well as having a lifetime interest in the politics of the day. She was famous within her family for her quick temper, and in latter life developed a high opinion of herself which went hand in hand with a passion for the dramatic. She was also an extraordinary looking woman, with white hair, pale skin, and dark blue eyes. Her nature and appearance combined to earn her the nickname of 'The White Cat'.
In 1747 she was given in marriage to Edward Coke, only son of the 1st Earl of Leicester. The marriage was primarily a business arrangement, to which Mary was opposed from the start. However, in an unfavourable memoir her cousin suggests that, despite swearing she would not marry him, Mary did little to prevent the marriage, either by alerting her parents to her reticence, or by her own actions.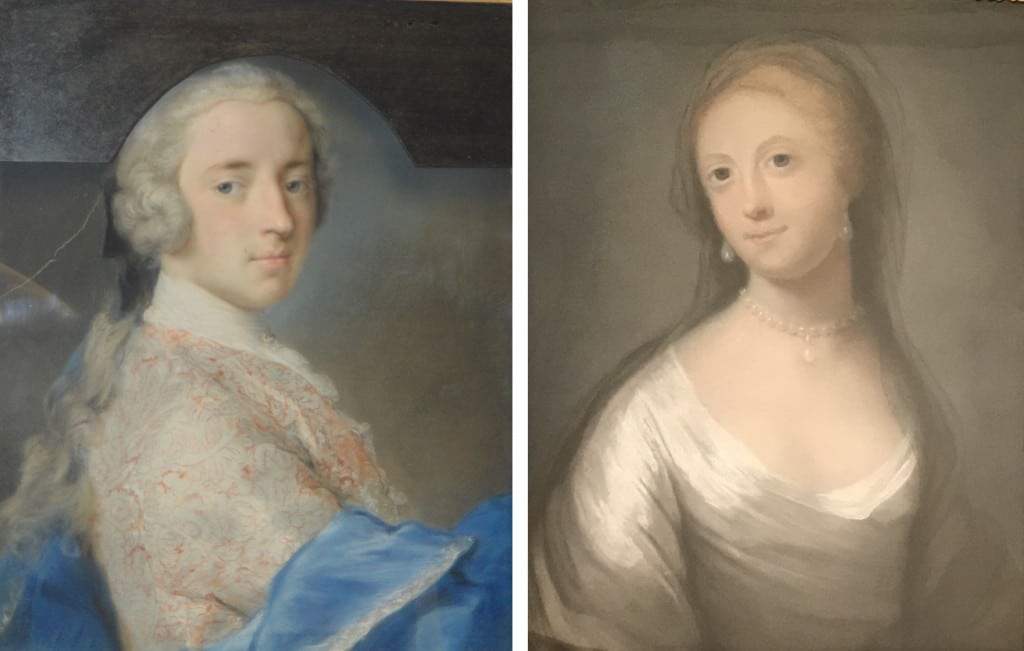 The wedding went ahead as planned, and unsurprisingly the wedding night was a disastrous affair. It is recorded that Mary, the reluctant bride, had worked herself up in a frenzy over the consummation of the marriage, insistent that she would not sleep with Edward. Edward – in perhaps his only gallant moment – assured her he would leave her in peace, and went out to gamble the night away with his friends. Relations did not improve much from there.
Edward was a drunk and a gambling addict, regularly returning to bed in the early morning. He was also cruel and sharp tongued. Mary, for her part, was stubborn and easily angered. She had also made a vow never to cohabit with Edward as his wife, which was unthinkable in eighteenth century society. Her steadfastness on this point lost her the support of her father-in-law, Lord Leicester, whose greatest desire was for an heir.
After periods of trial separation, the couple moved to Holkham, essentially having been told to make a go of it by both families. Mary promptly retired to her own apartment – likely in the second floor of the newly constructed Family Wing – and refused to leave for any purpose. Visitors of the period recall meeting her in her rooms and finding her cheerful, but adamant she would not mingle with the Coke family. Growing increasingly frustrated, in 1749 Lord Leicester tried to enforce his will on her by dismissing her maid, moving her from the comfortable rooms in Holkham to rooms in the old Hill Hall, and banning her from receiving any visitors but the doctor. Not to be outdone, Mary refused to let the new, Coke approved, maid wait on her and would not summon the doctor despite pleading ill health.
Matters quickly came to a head. Having been prevented from seeing her daughter, the Duchess of Argyll obtained a writ of Habeas Corpus from the judges of the Kings Bench; Mary was presented before them in November 1749, wherein she instituted a suit of divorce on the grounds of cruel usage. Whilst the trial was underway, Mary was lodged in the Coke's London residence, Thanet House, where she occupied a garret room; in what was to become a common theme throughout the divorce case, she alleged she was kept there against her will, whilst the Coke's maintained she was free to leave, but chose not to, so as to give the impression of being treated cruelly.
Ultimately, the divorce case foundered. Mary was unable to prove that she had been 'used cruelly' by her husband, save on one occasion where he struck her arm and tore a lace ruffle. By the standards of the age, this one outburst was not enough to carry the case.
In 1750 the families finally reached a settlement whereby Mary and Edward would remain married but that she could live separately with her mother at Sudbrook, as long as she eschewed London society. In a happy twist of irony, Mary was ultimately widowed in 1753 by the untimely death of Edward, undone by his dissolute lifestyle. She was only 26 years old and able to re-enter a society from which she had effectively been banished. Additionally, she had received a substantial legacy from her father which allowed her to remain unmarried. She returned to London, renting a house in Holland Park, and became a society figure.
In Bridgerton, Eloise theorised that Lady Whistledown was a society widow, whose wealth and status would allow her to access all the important events without attracting the attention reserved for unmarried women. Mary was able to fill this role, and her diaries are full of references to the royal family and the great and good of the day. However, unlike Lady Whistledown, she was no shrinking violet, and her later life was not without controversy. She alleged that she had been secretly married to Prince Edward, Duke of York and Albany. The pair had engaged in a flirtation and he – 12 years her junior – wrote her a number of affectionate letters. It was believed in society that the attachment was all on her side, and the notion of their secret marriage was not taken remotely seriously. The question was proved moot by the early death of the Duke in 1767, and no proof of the marriage has subsequently been found; it was Mary's dramatic mourning of his death which led to rumours of the marriage (or otherwise) abounding, and to her widespread mockery in society.
In 1770 Mary took a trip to Europe, becoming friends with Empress Maria Theresa, also visiting France where she met the future Louis XVI and his wife Marie Antoinette. Mary kept up her friendship with Maria Theresa until 1773, when after meddling in court intrigues, she fell out of favour; indulging in the more sensational aspects of her character, she began to see plots by the Empress to discredit her at every turn. The loss of a maid, unsuccessful bid at an auction, or attack or rheumatism were hereafter the work of Austrian conspiracy.
Mary's life story has been told in an acerbic memoir by her cousin, Lady Louisa Stuart, and also through her own diary kept between 1766 and 1791, and published up to 1774. Although the diary was ultimately made public, it was never intended for a widespread audience and, unlike the fictitious Lady Whistledown, the gossip was written only for the amusement of herself and her sisters.
The diary is principally occupied with the comings and goings of the day; she shows a marked interest in both politics and marriage prospects of society members, and does not shy away from being unflinchingly honest. In statements which are at times remarkably relatable, she makes such comments as 'the Duchesses seller does not afford any great variety of wine, I brought Champagne'; 'received a card of invitation from Lord and Lady Hertford to dine with them…. sent an excuse'; and 'she goes out seldom and is ill; her disorder is said to be of a most terrible kind, though I think her a silly, impertinent woman'. Although at times she is a very astute commentator, she does commit some stranger ideas to paper, such as the idea that the marriage of Maria Fitzherbert to the Prince of Wales constituted a catholic plot against protestant succession.
Her diaries are a fascinating read, mixing banal detail with political and societal gossip, making her the Samuel Pepys of the eighteenth century.
If you would like to know more about the social lives of past Holkham figures, join Katherine on our Country House Party Tours.
View all latest blog posts here.
Back to Journal

Back to Journal