International Women's Day 2022: Alice Coke, 3rd Countess of Leicester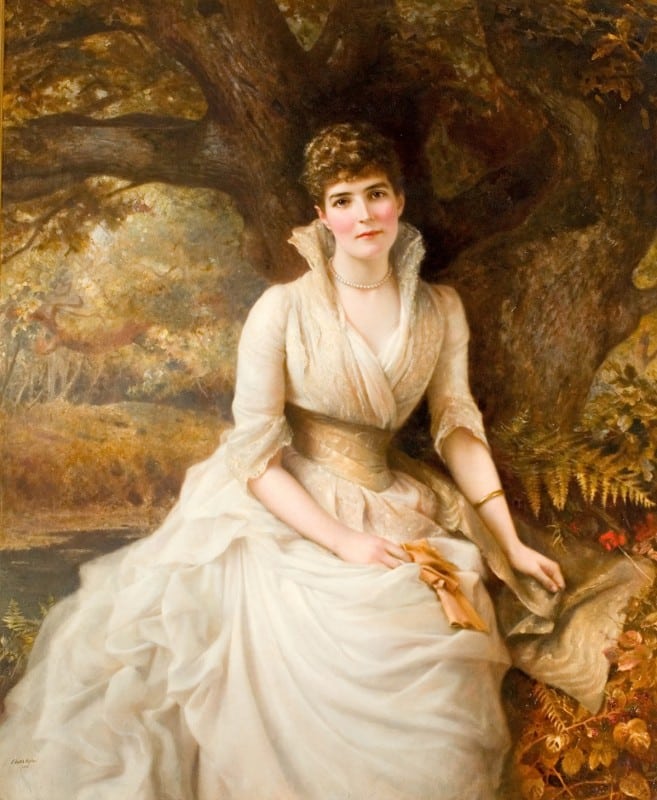 On International Women's Day 2022 we want to celebrate the life of Alice Coke, Countess of Leicester (1855-1936) and wife of the 3rd Earl. Born at the end of the Victorian age and at the heart of Edwardian upper-class society, Alice dedicated much of her life to charitable causes particularly favouring those of soldiers and young women.
Born Alice Emily White on 29 September 1855, she was the second daughter of Sir Luke White, 2nd Baron Annaly, and his wife Emily Stuart. Baron Annaly was a military man, serving in the Light Dragoons; in later life he entered parliament as MP for County Longford. Military service ran in the family; Alice had five brothers, four of whom were to have military careers.
Throughout her life, Alice enjoyed close connections to the Royal Family, beginning as a young woman, when she served as Lady-in-Waiting to the Duchess of Edinburgh, accompanying her on a trip to Russia in 1889. She was also a personal friend of Queen Alexandra and Queen Mary – and their respective royal husbands – both of whom were frequent guests to Holkham. There is a voluminous correspondence maintained in the Holkham Archives between Alice and members of the extended royal family.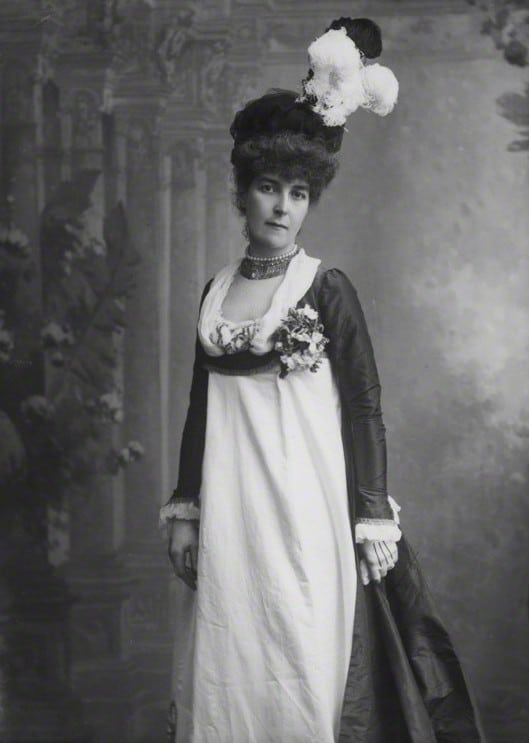 In 1879 she married Viscount Coke – later 3rd Earl of Leicester – who, like all the men in her family, was a committed military man. A Colonel in the Scots Guards, he served in Egypt in 1882 and Suakin in 1885. Having retired from the regular army he was appointed Lieutenant-Colonel of the Norfolk Artillery Militia in 1894, travelling with them to South Africa as part of the Boer War. Correspondence between husband and wife indicate that they spend a good deal of time apart, though there is a genuine affection expressed through their letters. In one letter, the Earl – renowned as gruff solider – relates how he 'cannot sleep without her'. The couple had five children, including the 4th Earl of Leicester. Their second son, Arthur Coke, was killed at Gallipoli in 1915.
Her husband and brother's military service appears to have created in her a deep sympathy for soldiers and their families. Whilst her husband was Lieutenant-Colonel of the Norfolk Militia, commentators noted her special concern for the men in his care, but it was during the First World War that her charitable instincts really came to the fore.
Following the outbreak of war in 1914 – and the deployment of two of her sons to the front line – Alice became active in the British Red Cross, becoming president of the Norfolk Branch. She led local fundraising efforts for the society, including a campaign in 1914 to purchase a motor ambulance. This campaign was successful, with the ambulance being purchased from the dealer Mann Egerton, Norwich.
Between June and October 1915, she ran the 'Leicester Convalescent Hospital' at Model Farm; when full, it accommodated 11 officers, many of whom were suffering from shell shock. It is reported that Alice was the ambulance driver for the hospital, and she ensured that her daughter Bridget and daughter-in-law Hermione also worked there, both women learning to cook for the prisoners. All the costs associated with the hospital were borne by the Earl and Countess, which reputedly included a car for patients' use and a nurse masseuse. In 1916, the Leicester Yeomanry moved their encampment to Holkham, setting up a temporary hospital in the village.
She was President of the Norfolk Regiment Prisoners of War Fund, launching an appeal in 1916 to support those captured at the Siege of Kut, which raised over £226. She oversaw other fundraising activities to supply extra comforts for the men at the front.
After the war, she applied herself to help ex-servicemen secure pensions. This latter intervention was crucial: many of the men she helped had been denied their pension, a position that was often reversed following her intervention. As a result of her war work, she was appointed Dame Commander of the Order of the British Empire (DBE) in the New Year Honours List of 1920, known as the Civilian War Honours list. She was also presented with a certificate from the British Red Cross Society and Order of St John of Jerusalem in recognition for her services. Two years later she was made Justice of the Peace for Norfolk.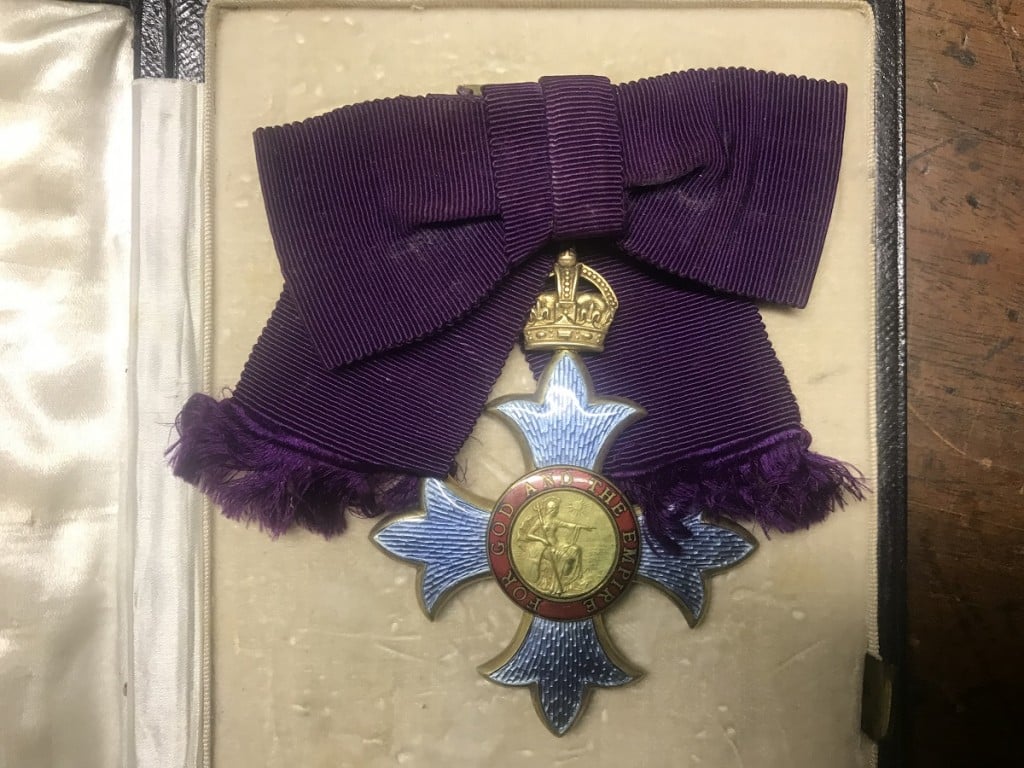 She was also incredibly active in the Girl Guiding movement. Girl Guiding was founded in 1909 by Robert Baden-Powell after a group of 'Girl Scouts' had marched at a Scouting Rally; Baden-Powell deliberately chose a different name for the movement so that the girls could develop their own identity, outside of that of the boys. The movement was revolutionary for introducing girls to more adventurous activities such as sailing and home electrics. Alice served as the first County Commissioner for Norfolk. As part of this role, she was responsible for arranging large events across Norfolk, including rallies at Little Massingham, Norwich, and Yarmouth.
There are numerous letters in the Holkham Archives between herself and Mary, Princess Royal, President of the Girl Guiding Association, discussing such events and the overall success of the movement. She retired from her position as Commissioner in 1926. She was also Vice-President of Wells Cottage Hospital, and made especial provision for the children at that hospital, including providing toys and books. At various times, she also served as President of the Women's Section of the Wells and District branch of the British Legion and President of the Walsingham District Ladies Association.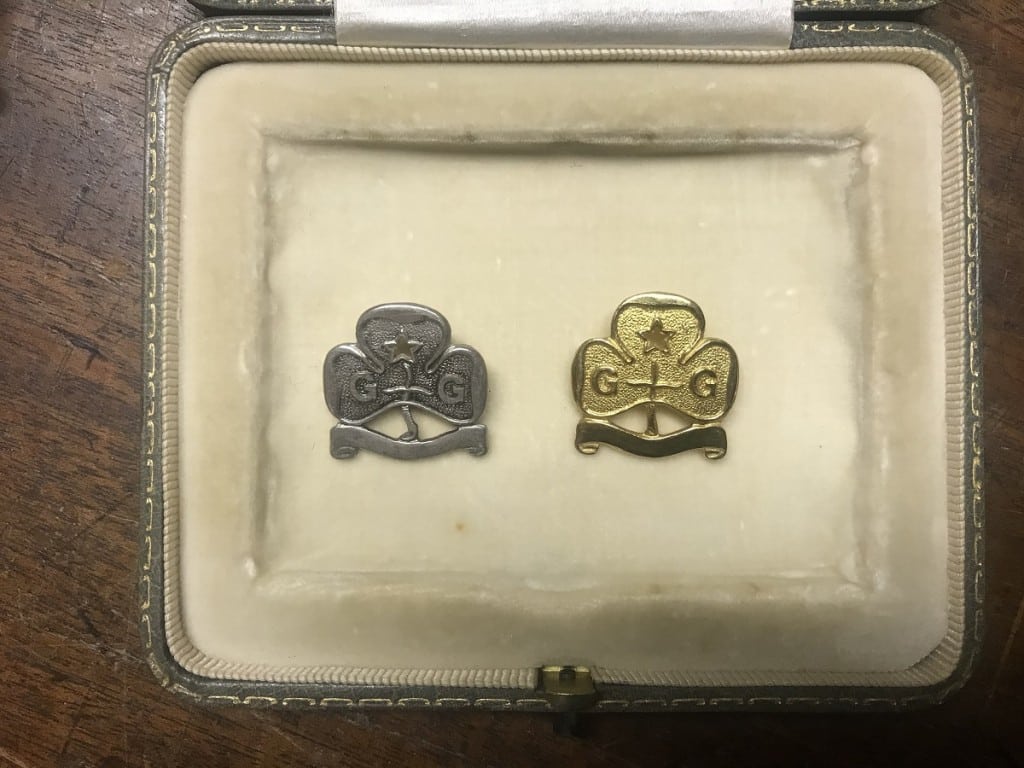 Alongside her reputation for charitable works, she was known within the family for a love of dancing and in her youth had been famed for her ice-skating. Her grandchildren remember her comfort during zeppelin raids at Holkham, with one of her grandchildren, Lady Silvia, recalling 'going into our grandmother Alice's bedroom and being given cocoa and biscuits, and climbing up the four posters on her bed'.
She died at Holkham in 1936 at the age of 81. Her memorial in St Withburga's Church, Holkham is inscribed 'She cared always for the needy and him that had no helper'.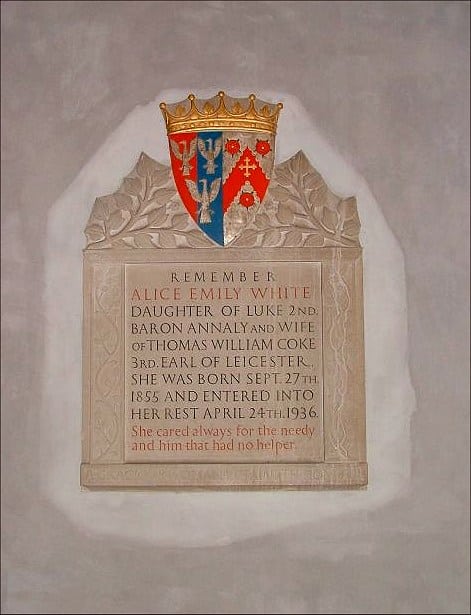 View all latest blog posts here.
Back to Journal

Back to Journal