A Ball to Celebrate the Glorious Revolution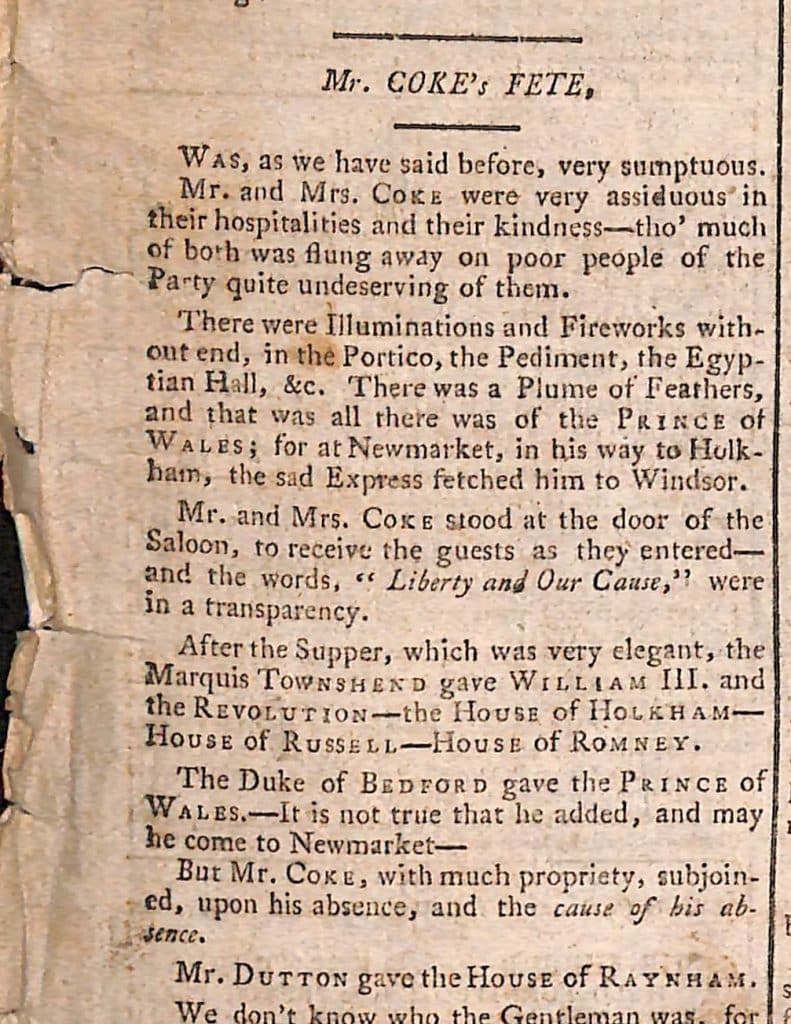 Remember, remember the 5th of November….These words have a close association with Holkham, through the character of Sir Edward Coke, Lord Chief Justice of England, and the prosecutor responsible for trying the Gunpowder Plotters. However, for Thomas William Coke, an 18th Century descendent of the Lord Chief Justice, the date had a much different significance – as well as being the date of the failed Gunpowder Plot, in 1688 it was also the day William III landed in England to oust the Catholic James II, in the event that became known as the Glorious Revolution. As a committed member of Whig political party – many of whom had played a central role in the Glorious Revolution – the 100-year anniversary of the event was an occasion for grand celebrations.
This ball, held on the 5th November 1788, was the first large scale entertainment thrown by T.W. Coke, who had inherited Holkham in 1776. As well as an occasion for a good knees up, the party was intended to demonstrate his allegiance to the Whig party in preparation for the upcoming elections – although first elected as an MP in 1776, Coke had lost his seat in 1784, and was keen to re-enter parliament at the earliest opportunity. As a publicity stunt, the party was a great success, gaining write ups in the national press, with one vehement (presumably Tory) critic writing:
'On what account was the health of His Majesty purposely admitted to be drunk? And do you imagine this will recommend you to his son?
For what purpose were emblazoned over your door the words LIBERTY AND OUR CAUSE? And what cause are you carrying on, distinct from the country at large? Or would you have supposed that in your house there is a cause to be supported where the health and welfare of His Majesty are not to be named?'
As well as the typical ball activities such as dancing, eating, and drinking, there was also a recreation of William III's landing on the lake at Holkham (perhaps something to be recreated for the 350th anniversary in 2038?). The evening's grand finale was a firework display by one Martinelli of Norwich, designed to create the Prince of Wales' crest.
The guest lists for the party— still held in the Holkham Archives— are staggering. Principally, guests were members of Norfolk society, however, some invitations did go further afield, to important members of the Whig elite. Both the Prince of Wales (the future George IV) and Charles James Fox received invitations, though neither were able to attend, however the Prince of Wales supposedly travelled as far as Newmarket, before news reached him of the state of his father's health, obliging him to return to Windsor. Those who were present include the Duke of Bedford, the Marquis of Townsend, Lord Petre and Lord Walpole, to name a few. The final count on the door was 516 attendees!
All of these people needed feeding, and although many lived close enough to return home afterwards, many also asked Coke if he could put them up for the night. It is not known exactly how many people stayed the night— presumably less than 516!
Catering for over 500 people is a mammoth task, and sensibly the dinner was divided between several rooms. A family friend, Dr Silas Neville, records in his diary:
'Refreshments at intervals. A cold supper with hot soups and game at 2'o'clock. Excellent wines of all sorts. A horseshoe table in north dining room where Mrs C. supped. Many other tables below in the billiard and audit room, in the style of the Pantheon Masque Supper. The ladies ought to have supped first, for by the whole attempting to sit together, there was some confusion.'
Guest recollections also suggest that each table place was set with a bottle of burgundy and champagne, though sadly the wine books don't survive to confirm this.
It also appears the Coke didn't have to bear the full burden of feeding 500 hungry (and possibly drunk) mouths, as letters addressed to him tell us that some guests sent food to help with the catering. One letter records that 'I have sent out by my steward eight brace of hares and a brace of partridges'. However, it also appears from that these gifts were not motivated purely by kindness, or from politesse, but in fact because Coke explicitly asked for them: another letter writes that 'had I not received a hint, I would not have presumed to send'.
View all latest blog posts here.
Back to Journal

Back to Journal