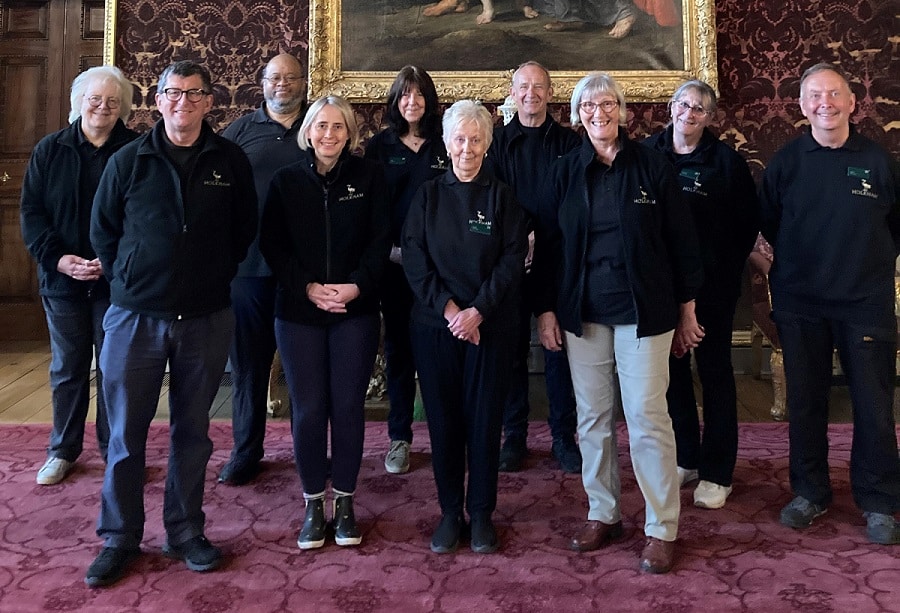 What's it like to volunteer at Holkham Hall?
June 26, 2023 | Holkham voices | 6 minute read
Earlier this month, it was Volunteers' Week – an annual celebration of the contribution millions of people make across the UK through volunteering in their communities. At Holkham, we are fortunate to have a committed group of volunteers who selflessly dedicate their time to join us in various areas of the estate. Most volunteers support us in the Walled Garden or in the Hall. We shared posts celebrating our Hall and Garden volunteers on Instagram, but thought we'd take this opportunity to delve a little deeper and hear directly from some of our volunteers.
This post focuses on our Hall volunteers, who join us every Wednesday. They can often be spotted diligently working in the state rooms and also behind the scenes, whether it be high up in the attics, or below stairs in the cellars. Tasks can vary from conserving and protecting the vast collection of books in the libraries, mapping areas of damage, collating data from historic documents to be digitised and generally supporting the Hall's wider team to maintain the valuable collection.
There are always new projects to get involved with each year and we ensure that any relevant training is given.
Roger and Linda have both been volunteering at Holkham for four years, when the Hall first started welcoming volunteers. We had a chat about their experiences as volunteers here.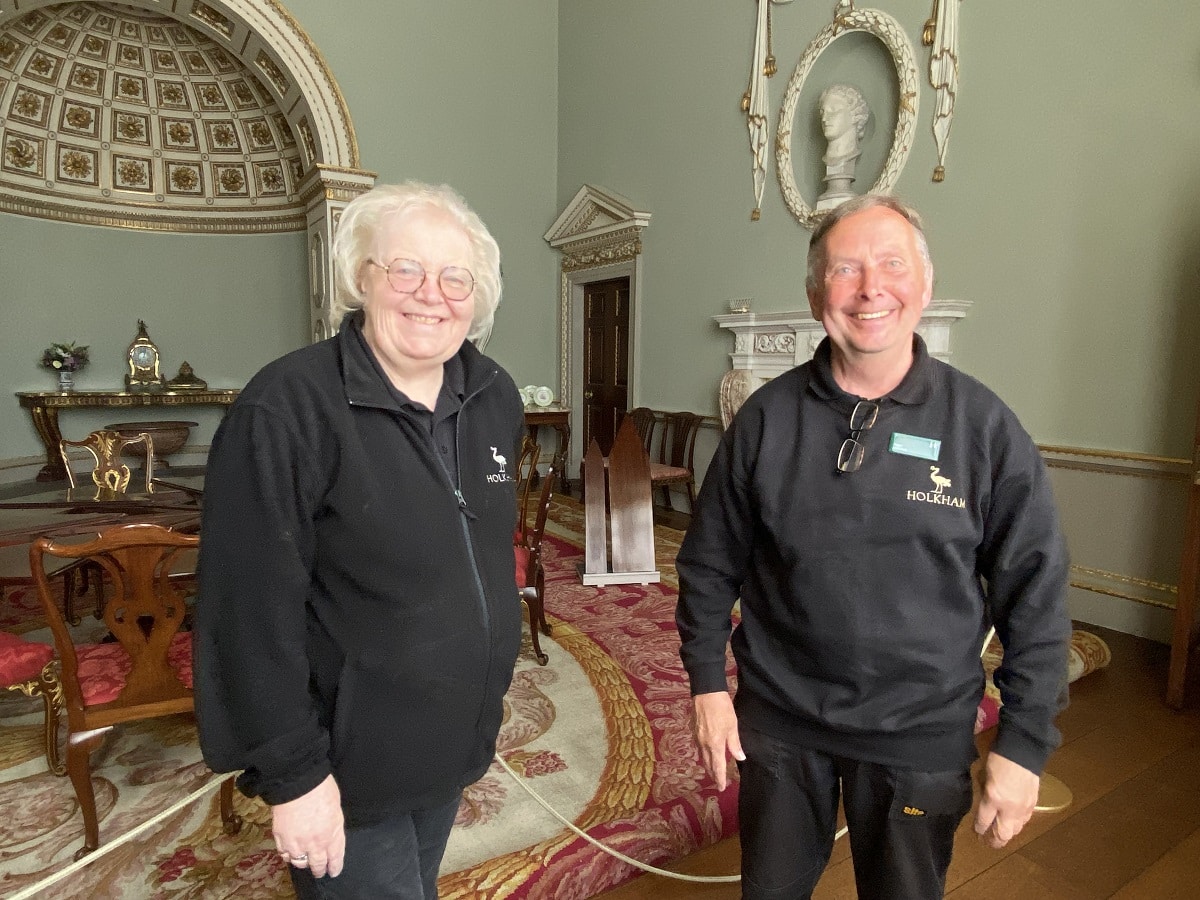 "We all started on books, and we're all trained to do books. But over and above that, we've been dealing with things like fabrics up in the attics, porcelain up in the attics, cleaning silverware, cleaning the brassware, furniture, the chandeliers. We've been involved in cleaning the wrought iron around the Marble Hall balcony and the woodwork. We really do a diverse range of things.
"Floor mapping is another thing that's been done: looking at the tiles in the Marble Hall and floors in various state rooms. We're doing damage mapping. We catalogue and photograph tiles and flooring, and the copper in the Old Kitchen, to keep a record of it.
"We also cleared out the old kitchens and the cellars, which was quite a dirty job. There's a real mix of stuff!"
Linda is a Hall Steward too, and has found the volunteering projects valuable in her understanding of the hall's history.
"It helps increase your knowledge of the house – the people who live here. Going through the books makes them human, because a lot of the books belong to people who have lived here. And one of them, Wenham Roberts, inherited the house from Thomas, the person who built it. His school books are upstairs – maths books and such like. And he was obviously bored out of his mind, because there's loads of doodles in there including drawings of Dragoon soldiers, and he played Hangman as well!"


Pictured: Volunteers learning about cleaning and preserving books with Nick Sellwood in May 2023.
I asked Roger and Linda what their favourite things are about volunteering here.
"I think it's very difficult to pick a favourite because sometimes you're on a project for a long time. We've all done books and the primary thing that we are doing is probably books because it's going to be a cyclical thing.
"We generally work in pairs and you can be on it for quite some time. We're thrown into all sorts of things, and we receive the necessary training and support for these projects. There are 12 of us. We've all come from different backgrounds, so there's an amazing wealth of knowledge and skills, " Roger says.
"And also there's the social aspect," Linda adds.
"We only come to volunteer on Wednesdays and we genuinely look forward to it. It's a privilege. We learn a lot, there's the social element, it's very good!"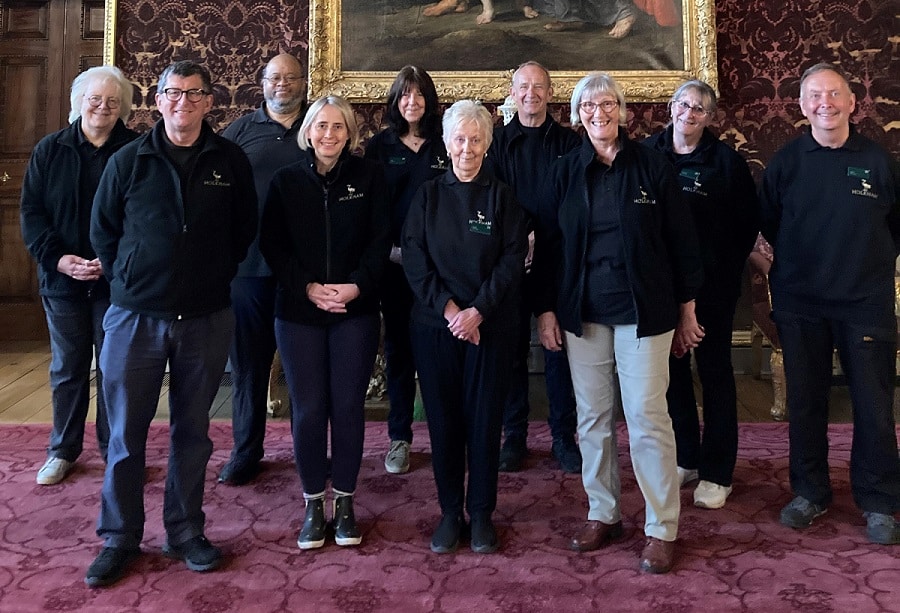 A huge thank you to Roger and Linda for giving an insight into volunteering here, and to all the volunteers who support the conservation work in the Hall.
Back to Journal

Back to Journal