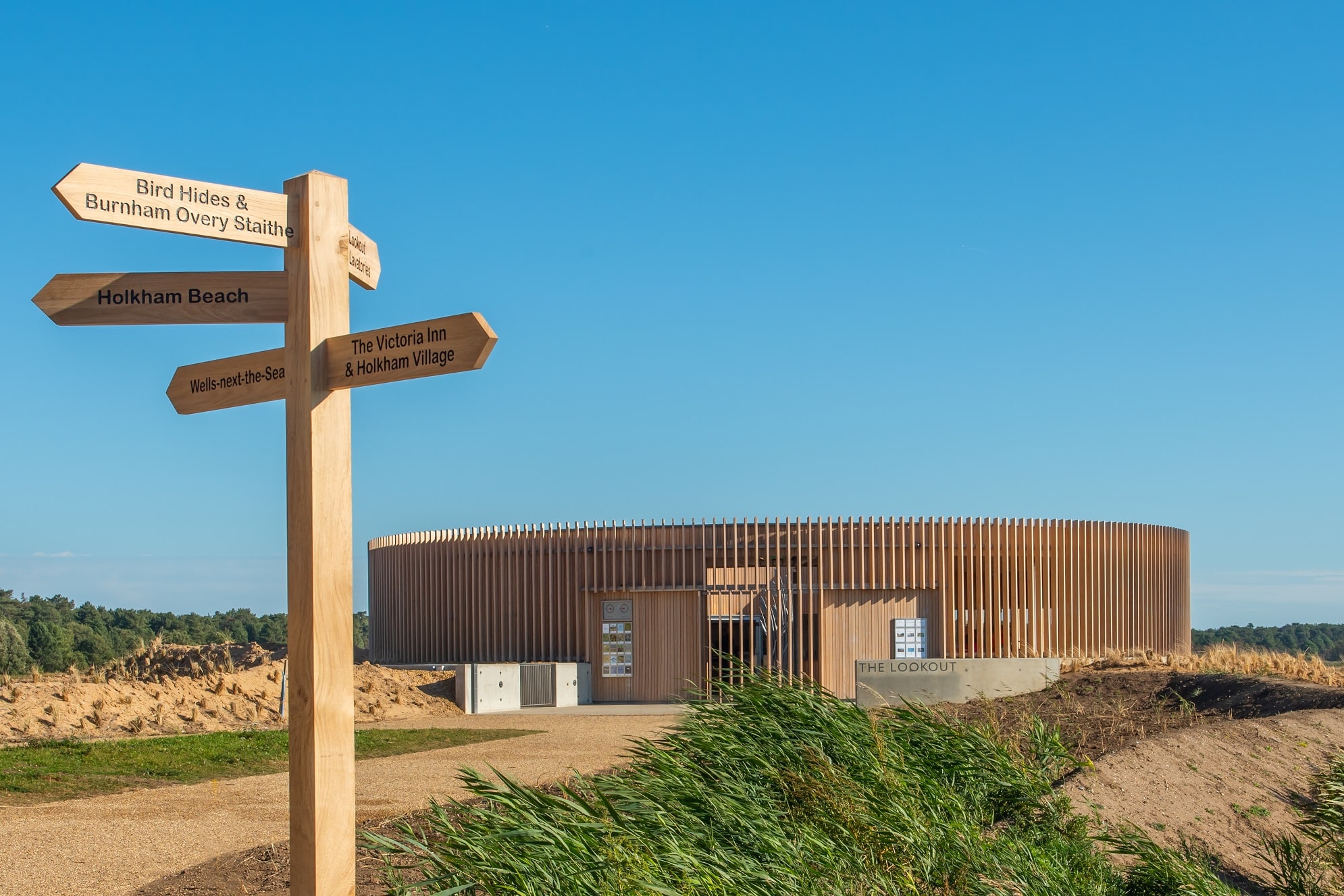 Eat, shop and stay
The Lookout
Sit back with a cuppa

as you take in the views.
Situated on the edge of the Holkham National Nature Reserve, the Lookout offers spectacular views and a range of food and drinks to enjoy inside, outside or to take away.
You'll find this unique building at the top of Lady Anne's Drive, blending discreetly into the surroundings. Interpretation about the wildlife and habitats on the reserve sits inside, with binoculars and bird guides to make the most of the outside panoramas.
We're prioritising the environment. The Lookout is committed to reducing waste, and we aim to be free of single-use plastic. Any required packaging is 100% plant-based and compostable, so please dispose of it correctly. We serve filter coffee made with locally roasted beans, hot chocolate and both traditional and specialty teas. You'll receive 10% off your drinks if you bring a reusable cup, so you can help save both the pennies and the planet at the same time!
Delicious cakes, sausage rolls, sandwiches, soup and fruit are also on the menu.
Our sample menu
Our menu changes, but here is an idea of what we can tempt you with. We have both gluten-free and vegan-friendly choices and our lovely team are always happy to advise if you have any particular dietary requirements.
Hot drinks
(from £2.30)
Tea
Flavoured tea
Filter coffee / decaf
Hot chocolate
Cold drinks
(from £1.75)
Re Water sparkling / still
CanOWater sparkling/still
Cawston Press ginger, apple, orange, elderflower or rhubarb
Coke/diet Coke
Chocomel
Orange juice
Wrapperless ice lollies
(£3.25)
Strawberry and cream
Raspberry and lime
Apple and blackcurrant
Sandwiches
(from £4.25)
Cheese, tomato and chutney
Sweet potato falafel and houmous wrap
Ham salad
Egg mayonnaise
Prawn and Marie Rose
Tuna mayonnaise
Children's single ham or cheese sandwich (£1.50)
Savouries, pasties and hot baps
(from £3.95)
Bacon bap
3 sausage bap
Sausage roll
Beef and vegetable pasty
Vegan sausage roll
Cheese and onion slice
Crisps (£2.25)
Sweet treats
(from £2.50)
Croissant
Traybake
Eccles cake
Chocolate stick
Cake wedge
Pots
(from £2)
Grape pot
Granola pot
Houmous and falafel pot
Soup pot
Fruit
(from 80p)
Apples
Pears
Oranges
What a great place to while away the time, watching the environment around you, with a cuppa and a piece of cake. The building itself is fascinating.
Penny Clarke, Google Reviews
Stunning day capped off by a relaxing tea in this perfect cafe. Lots of simple lunch items all made that day and welcoming staff eager to chat to our little one. They have bird guides and binoculars to use. Lots of indoor and outdoor seating.
Alex Aidan, Google Reviews