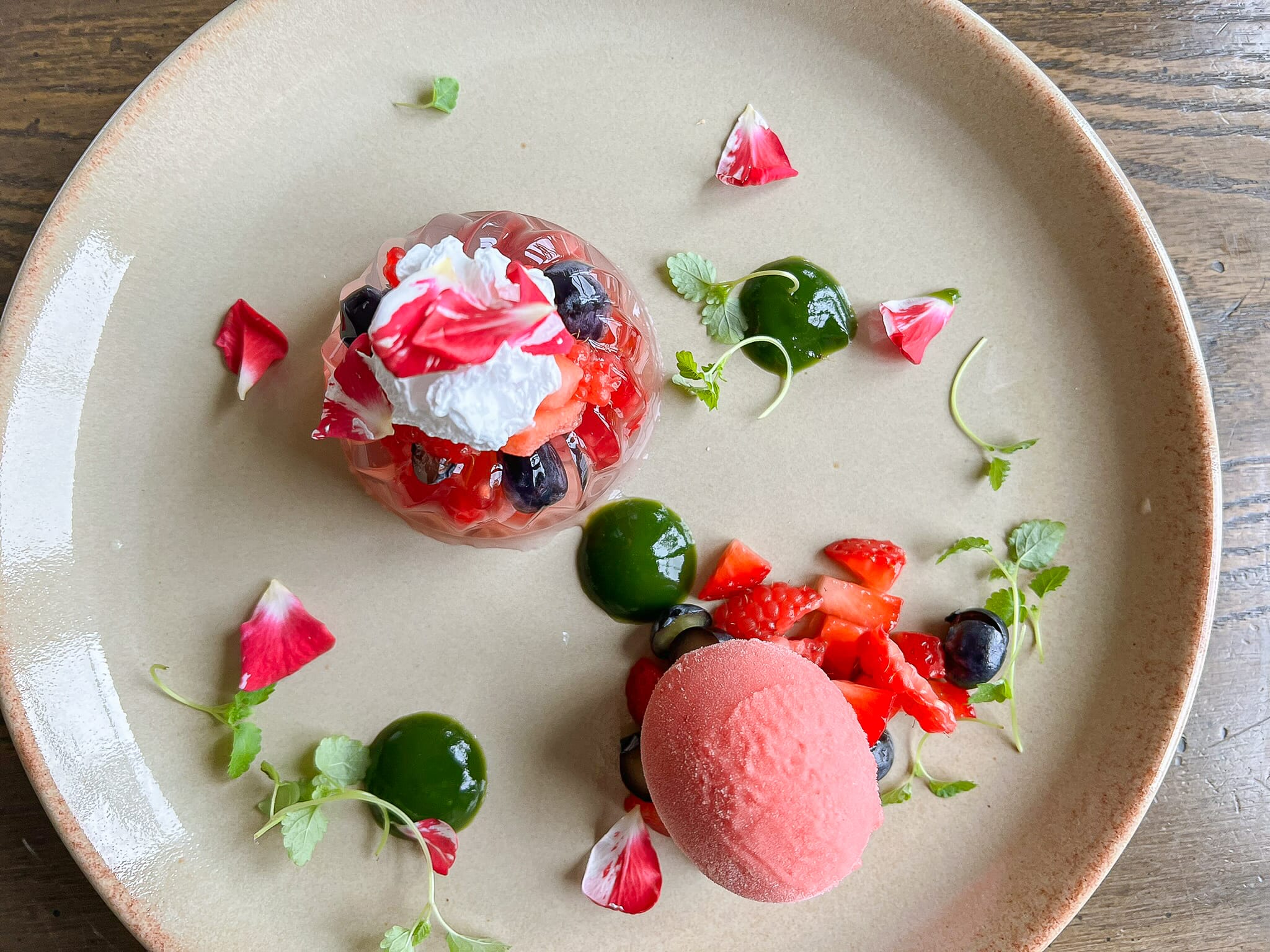 Recipe of the Season: Michael's delightful summer berry jelly
July 25, 2023 | Foodie bites | 3 minute read
It's time for another of Michael's favourite recipes, and this one comes straight from The Victoria's summer dessert menu. Perfect for a balmy evening, this light, fresh dessert is a delightful option, especially if the sun comes out to allow some al fresco dining!
Using Vege-Gel and agar agar, rather than geletine, makes this vegetarian. Opt for dairy-free ice cream or a sorbet if you'd like it to be vegan, and it's gluten-free too. (Please check packaging to be certain).
And if you'd rather be doing the eating than the preparation, why not book a lunch or dinner at The Vic? Take a look at our sample menus and book online or call us on 01328 711008.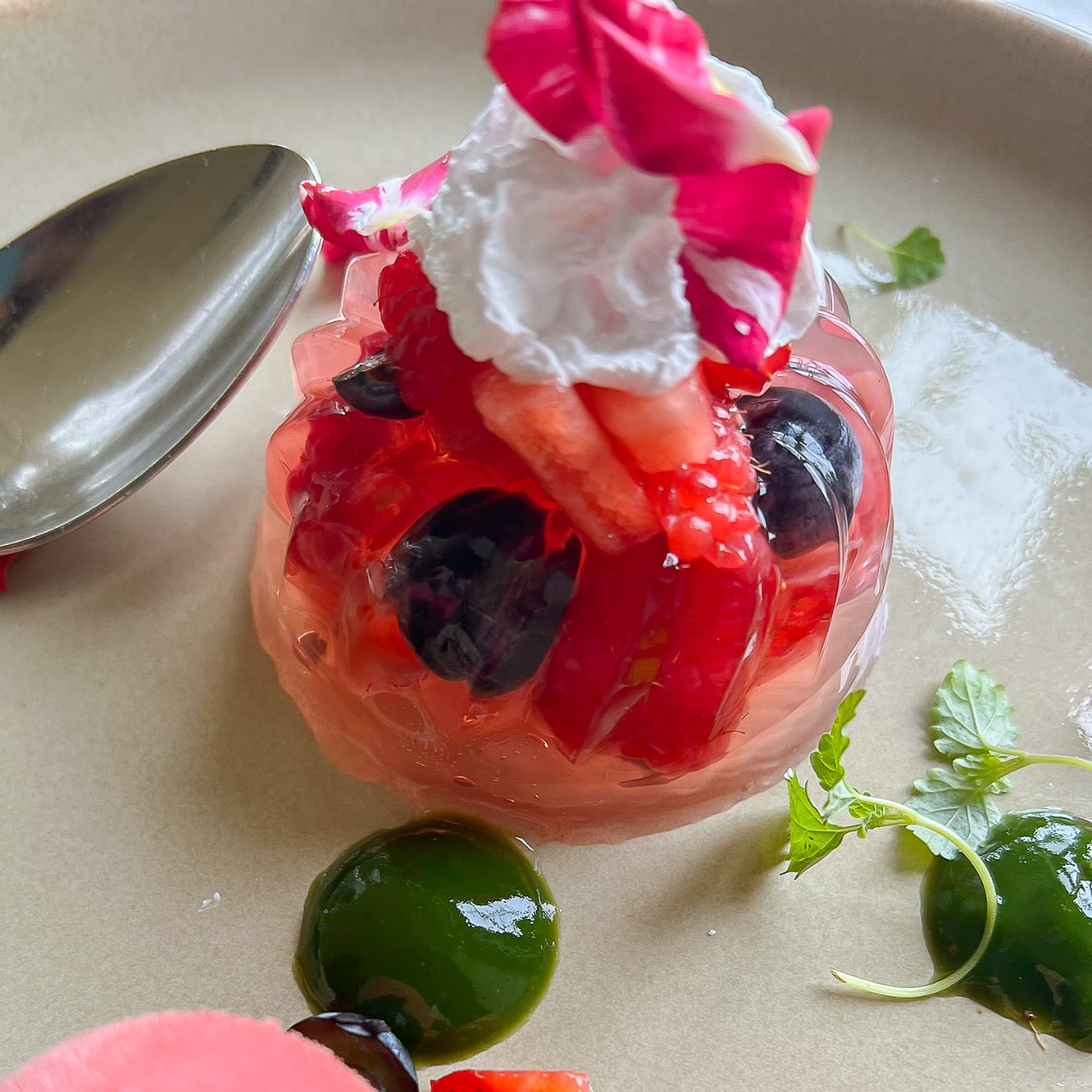 Recipe: Summer Berry Jelly with Mint Gel and Raspberry Sorbet
For the jelly:
6 strawberries, cut into quarters
12 raspberries, halved
12 blueberries, halved
500ml lemonade
500ml soda water
35g Vege-Gel
Raspberry sorbet or an ice cream or sorbet of your choice
Wash, cut and prepare the fruit and place into jelly moulds, with three strawberry pieces, three blueberry pieces and three raspberry pieces in each mould.
Heat the lemonade and soda water in a pan. Whisk in the Vege-Gel, making sure the liquid hits 90°c to activate the gelling process.
Remove from the heat and allow to cool to 65°c.
Pour over the fruit and set in the fridge (roughly 1-2 hours).
For the puree:
Half a punnet of strawberries, stalks removed
Juice of ¼ lemon
1 tbsp icing sugar
Blitz these ingredients together in a blender and set aside in the fridge.
For the mint gel:
100g mint picked and blanched for 30 seconds, then shocked in an ice bath
240g water
50g sugar
3g agar agar
Warm together the water, sugar and agar agar.
Remove and cool slightly.
Strain the mint and add everything to a blender. Blend on high for 1 minute.
Pass through a muslin cloth and pour into tray and set in  fridge then whisk/ blitz to desired texture and put into bottle.
To serve:
Turn out the jellies onto a plate.
Place the left-over fruit, and top with the raspberry sorbet (or ice cream).
Decorate the plate with the mint gel, edible flowers and micro mint.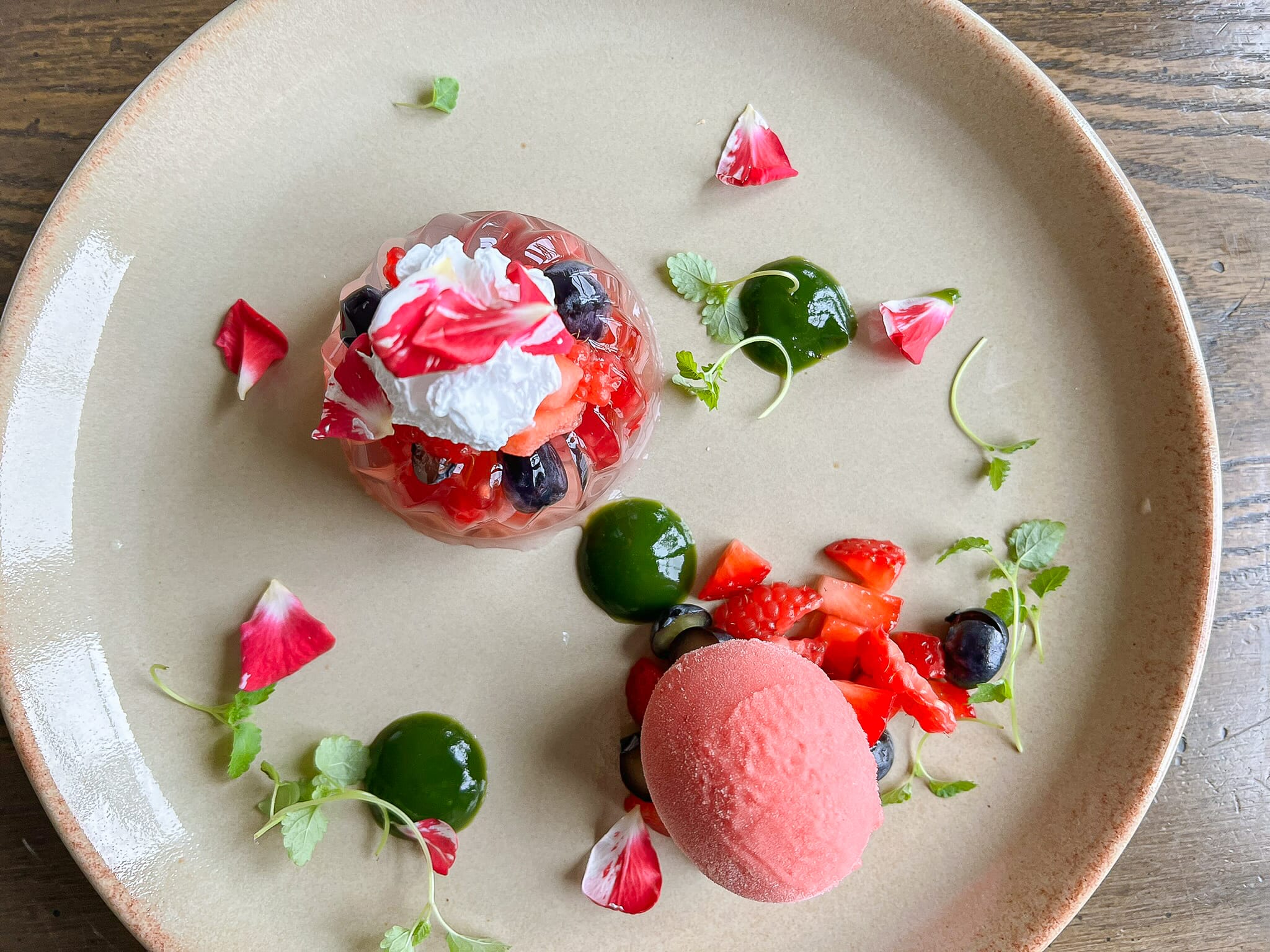 Enjoy!
Back to Journal

Back to Journal